'Bear' Frank in TV survival show
Date published: 21 April 2017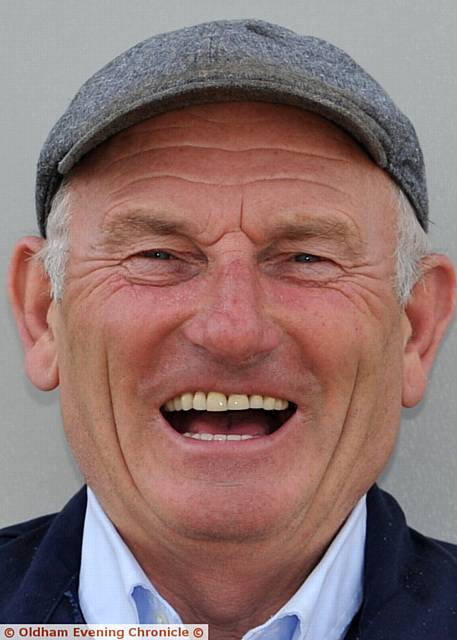 FRANK ROTHWELL
THEY say no man is an island . . . but for Oldham businessman Frank Rothwell, you're no man on an island without an essential piece of northern kit.

As a castaway on Channel 4's "The Island with Bear Grylls", which airs on Sunday, flat-capped Frank insisted on taking his trademark headgear on the survival challenge. And it turns out it came in incredibly handy for the thrill-seeking entrepreneur, founder and managing director of Manchester Cabins, as you can't fail to spot him among the 16 contestants left to fend for themselves on a Pacific island off Panama in the fourth series of the hit show.

He told the Chronicle: "I wore it all the time so you could identify me because everyone looks the same once they've grown a beard."

Frank, from Saddleworth, will be by far the show's oldest member at 66 with this year's twist being a generation divide featuring two groups aged 18 to 30 and 35 to 66, pitted against each other to see who copes best. Left alone by adventurer Grylls with only the clothes they are wearing, basic tools and a day's training, the show tests their survival skills to the extreme.

Frank revealed he applied to take part after seeing a story in the Chronicle appealing for Oldham folk to sign up.

After fighting his way through a tough selection process which involved sending in videos of himself on Pots and Pans in Saddleworth and with his latest pride and joy: a self-built half-size replica of a 1925 Foden steam wagon ­- and an interview process . . . to which he wore his flat cap - Frank was told he was on board and spent five weeks filming at the remote destination.

"I am a person who always seizes the opportunity," said Frank, who was Oldham Businessman of the Year in 2015.

"An adventure like this cannot be bought. I am a doer. I could not miss an opportunity like this to pass."

Frank is no stranger to harsh conditions, remote and dangerous locations and lack of food.

Having previously sailed around the world and completed a figure of eight journey around North and South America ­- after acquiring his Yacht Master Ocean status at night school at Royton and Crompton School ­- and launching what is now one of the UK's most successful portable cabin businesses, Frank has a reputation for being innovative, ingenious and resilient.

He says it wasn't the isolation, hunger and native beasts of the jungle which got to him most during the filming of the social experiment, but being away from his missus!

"The toughest part for me was missing my wife of 46 years, Judith," said Frank.

"I had mentally conditioned myself to realise I was going to go without food; so not eating was not an issue for me."

Catching and killing their own food is all part of the island experience and Frank said he didn't shy away from his responsibilities on that score. But is wasn't fish or caiman which tickled his food fancy.

Asked what was his favourite food, Frank said: "I loved the coconut milk. I had a coconut a day."

On a trailer for the forthcoming show, Frank is heard venting his frustration on a fellow castaway, saying: "I've not seen you chopping wood once!"

He said as someone used to grafting and getting on with things he found it hard to accept the laid-back attitudes of others and their way of doing things, particularly with the younger islanders.

"The different age groups is a good concept," he said.

"Having an under-30s and an over-30s group dynamic was interesting. The strongest group ­- I thought ­- was the older.

"Where everyone is equal, I believe age matters. It is in my nature to prosper and thrive.

"My experience as a farm labourer and an engineer and my generally positive attitude contributed to the group I think.

Asked what he learned about himself during his time on the island he added: "I have done an awful lot in my life. I already knew my limits."

He says there's plenty for people to feast their eyes on in the new series, which historically attracts up to three million viewers, including conflicts and moments of desperation among the sometimes desperate islanders.

Throughout its five-week run, Frank ­- or "Bear Frank" as he will soon become known ­- will be launching a fundraising campaign by placing advertising hoardings at strategic spots around the borough to promote his appearance on the show and his benevolent efforts.

Frank will be raising money for causes close to his heart, including the Oldham Union of Dance Troupes, of which he is chairman and Mahdlo, of which he is a founding patron.

Channel 4's "The Island With Bear Grylls", starts on Sunday, at 9pm, with episode two shown on Monday, at 9pm.