Councillor 'humbled' by MBE recognition
Date published: 19 June 2017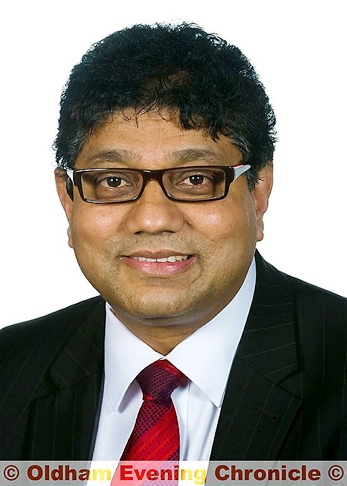 MBE . . .Councillor Abdul Jabbar
OLDHAM Councillor Abdul Jabbar said he was "incredibly humbled" to discover he had been made an MBE in the Queen's Birthday Honours List.

The Deputy Leader of Oldham Council was made a Member of the Most Excellent Order of the British Empire for services to political and public service.

Councillor Jabbar (56) grew up in Oldham having moved to the UK from Bangladesh when he was 12 years old.

He was educated at Breeze Hill School and Oldham College before being elected a councillor for Coldhurst ward in 1994, a role he has held ever since.

In June 2004 Councillor Jabbar was elected as the youngest-ever Mayor of Oldham and established a charity called Oldham Education Trust which gives bursaries and awards to encourage and inspire students to reach their full academic potential. His efforts during his Mayoral year saw him awarded the accolade of Mayor of the Year for 2004/2005.

More recently, in his capacity of Cabinet Member for Finance and HR, Councillor Jabbar has overseen the transformation of Oldham Council's financial reputation from amongst the worst-performing to a national leader in accounts practice, with the council consistently being named the fastest UK public body to file accounts, beating many FTSE 100 companies, and has the third most improved Council Tax collection rates.

Councillor Jabbar said: "I'm incredibly humbled to be honoured in this way and I'd like to thank my loving family who have been by my side through everything I've done and achieved.

"This has come as a complete surprise to me. I can't say for certain who put me forward but I don't do what I do for honours and titles or even to be recognised. I have always considered public service to be a duty.

"I have had a love for Oldham ever since I arrived at the age of 12 and all I have ever strived to do since is make my home town the very best it can be. In particular, the people of Coldhurst have taken me to their hearts and without their support I wouldn't have achieved what I have.

"It's been an honour to have served as Oldham's youngest Mayor, to have served in the Council's Cabinet and to now be the Deputy Leader of Oldham Council.

"These are all prestigious roles which I've relished but the most important thing has been the amazing people I have worked with along the way."

Councillor Jabbar, who has a MSc in Housing Management from the University of Salford and is a Fellow of the Charted Institute of Housing, has a career background is in Housing Management and helped to form the AKSA Housing Association (now part of the New Charter Housing Group) in the mid-1980s to address the housing needs of Black and Ethnic Minority people.

The married father-of-three is also a prolific community worker which began as a teenager when he founded the Oldham Bangladeshi Youth Association to provide sporting activities for young people. He also assisted the Oldham Bangladeshi Association in its work and helped to secure funding for its flagship Millennium Centre in Oldham.

Councillor Jabbar added that he is also dedicated to improving Oldham for residents and praised the town's spirit.

"Some people like to talk Oldham down but in the face of cuts we are building a better Oldham for everyone and we're doing it together.

"For me, the spirit of Oldham people is unrivalled. And I'm just one of the thousands of people here fighting for this remarkable town."