Action threat to end assembly hall saga
Date published: 14 August 2009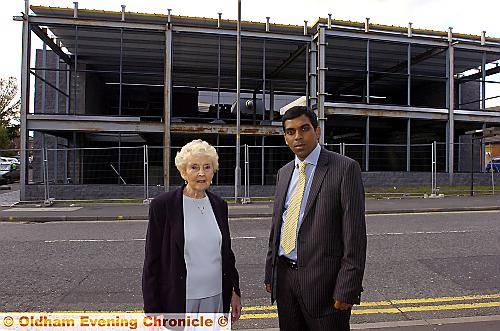 Photo: DARREN ROBBINSON
Royton North councillor Olwen Chadderton and councillor Mohib Uddin, cabinet member for Regeneration, outside the frame of Royton Assembly Hall.
THE end could be finally in sight for the Royton Assembly Hall saga, with Oldham Council ready to take legal action if work is not completed by the end of this year.

The assembly hall scheme has run years over schedule but recent attempts by Oldham Council chief executive Charlie Parker to arrange a meeting with developers Whispers have been ignored.

Now Oldham Council has written to Whispers with a deadline of December 1 this year and has threatened legal action if this deadline is not met.

Royton North councillor Olwen Chadderton said: "This saga has been going on for almost six years now and it has been a huge source of frustration that we have not been able to accomplish anything.

"Myself and my fellow Royton councillors have constantly been dealing with questions and concerns from local residents about the hall. We now hope that we are finally moving somewhere towards resolving this problem.

"This is a crucial gateway site in Royton and to have it out of action for so long has been an absolute nightmare for the local community. I fully support Oldham Council in taking this action."

The hall was originally supposed to be up and running by the end of 2004. The deadline was then extended to April, 2006, and more than three years later the structure is still half finished.

The issue has been a huge headache for local councillors and has now become cross-party issue, with officers and councillors of all political colours coming together to say "enough is enough".

The Environmental Health Department has also issued enforcement notices, demanding that Whispers take action on a number of issues at the site within 21 days.

These issues include the building being open to unauthorised access in Middleton Road, lack of security due to temporary fencing and storage of materials at the Market Square end of the site.

Other problems Whispers will need to address include the obstruction of the road at several points, damage to the public highway, litter and waste, and the start of works on the highway without submitting detailed drawings first.

Councillor Mohib Uddin, cabinet member for regeneration, said: "The situation at Royton Assembly Hall unites all parties and residents in their frustration.

"Since the deal was completed to transfer this site in 2003, we've endured an unacceptable series of delays and frequent periods so silence and inactivity from Whispers.

"We have now given them 21 days to urgently address important security, highway and obstruction matters at the site. If they fail to comply, we will do the work ourselves and charge them for it.

"Our notice giving a deadline to complete the entire works by December also puts in place a longer-term legal process to ensure Whispers honours its contractual obligations and delivers what Royton residents have waited for since 2003. We are always sympathetic to local businesses, but these problems pre-date the credit crunch and are therefore not related to the recession. Whispers has had plenty of opportunities to work with us to bring this to a conclusion, but this now sends out the message that the matter is an urgent priority."

The Evening Chronicle was unable to contact Whispers Developments.