Girls bake their dreams come true
Date published: 21 June 2010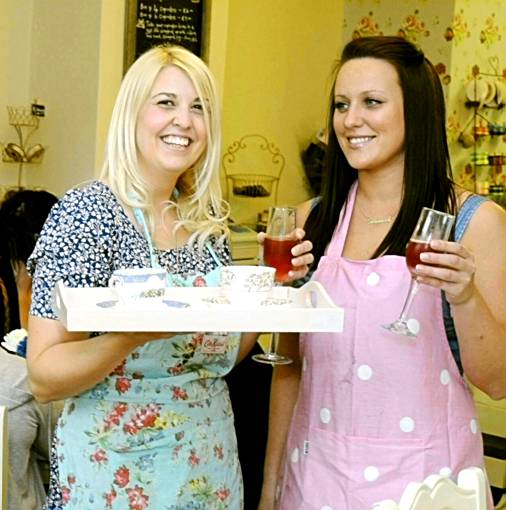 Fashionistas come cupcake bakers, Beth Blackmore and Hannah Jones at their shop A Spoonful of Sugar
Many young girls would fantasise of a career as a designer, but for two city fashionistas, new quaint cupcake shop 'A Spoonful of Sugar' in Uppermill is their dream come true.

Business duo Beth Blackmore (27) and Hannah Jones (24) met at a fashion company in Manchester five years ago.

But when the pair began filling their evening and weekends with their hobby of making cupcakes for special occasions, they soon found it was their forte.

Beth said: "All of a sudden our friends were ordering them and it was filling all of our evenings and weekends outside the office.

"People say we are mad to open a shop in the current financial climate, but it was either stop doing the cakes or quit work so we took the plunge and gave up our jobs in September last year."

Since then they have been preparing for their venture which opened recently

The sell-out opening day saw hundreds of customers leave with a sweet taste in their mouths as the delicious cakes flew off the shelves at the candyfloss-pink-fronted shop.

The new store harks to the good old days, with floral wallpaper, rustic birdcages and fine china tea pots and cups.

Beth said: "It is an absolute dream come true to have a shop in Uppermill.

"We had so many customers at the champagne opening we had sold out by 2pm, and had to make more.

"The whole family was helping out."

The pair now hope that their personal service, handmade cakes and gift boxes will hit the spot with locals.