Couple's fury as new bed collapses on first night
Date published: 12 August 2010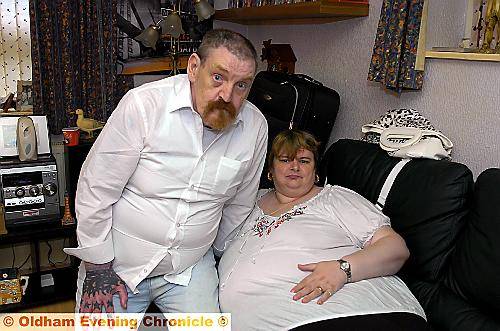 Photo: Pictures: ANTHONY MILLER
Judd and Caroline Pollard have been left sleeping on the sofa since their new bed collapsed the first night they slept in it.
An angry Oldham woman has been left fuming after her new bed collapsed from under her on the first night she slept in it.

Caroline Pollard (38) and husband Judd (65) were thrilled when their new leather-headed bed arrived from TJ Hughes after a two-week wait.

But after getting up in the middle of the night for a drink, the couple had a fright as the slats gave way underneath them — sending Caroline flying and spilling her milkshake.

Caroline, who suffers with curvature of the spine and arthritis, was then stuck in the broken bed as Judd struggled to lift her out.

She said: "We were in complete shock, we just heard a big bang, Judd managed to jump up in time but I didn't.

"I'm absolutely fuming, we've only had it one day. We live in a one-bedroom flat and we've thrown the old bed out so I'm having to sleep on the sofa and my husband is on the armchair.

"Some shops say it will be three weeks delivery — we can't go on like this for that long.

"I'm now walking on sticks until I have my spine injections."

The shocked couple, who live in Lees New Road, Holts, have tried to get in touch with TJ Hughes to get a refund for their £199 self-assembly bed, but say the company has failed to return their calls.

Judd, who also suffers with back problems, said: "My wife is a larger lady but you don't expect it to break after you have paid good money from a top store.

"If it can happen to us, it can happen to anyone.

"We're trying to come to terms with it all — my wife is in agony."

A spokesperson for TJ Hughes said: "We take customer complaints very seriously and therefore we are sorry that in this instance our customer service was not up to our usual standards."

The company said it had arranged to send a member of its technical team to inspect the broken bed.