Street cycle race thriller
Date published: 01 June 2011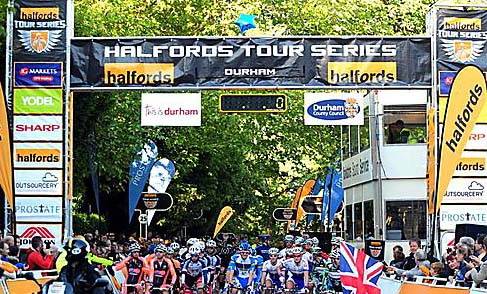 READY, steady, pedal! The start of a race in one of the earlier rounds in Durham
Cream of international riders head to Oldham
INTERNATIONAL cyclists will be whizzing around Oldham town centre as a prestigious bike race comes to the borough for the first time.

Thousands of residents are expected to line the streets for a thrilling day of cycling as 50 professional riders compete in the Halfords Tour Series 2011 next Thursday.

But there will inevitably be some disruption with road closures and bus diversions.

Oldham is the only town in the North-West hosting the event with the challenging 1.5 mile circuit route organised around High Street, Henshaw Street, St Mary's Way and the top of Yorkshire Street.

Organisers will begin setting up on High Street from the early hours but two lanes of St Mary's Way will remain open throughout for traffic with the other two lanes closed for the event from 1.45pm.

A section of the road currently dug up for gas works as part of Metrolink will be reinstated in time for the race.

Clegg Street bus station will be closed, with attractions and demonstrations held there, and buses diverted along Union Street or the route taken when Yorkshire Street is closed on weekend evenings.

Competitors will have to negotiate cobbles, hill climbs and tight turns as they battle it out in Round 6 of the tour.

Highlights of the event will be broadcast on ITV4 the next day at 8pm and repeated on June 11.

The main race starts at 7pm and finishes at 8.15pm with a podium presentation planned for 8.30pm.

The high-speed route will also host Round Three of the Johnson Health Tech Women's Grand Prix Series two hours earlier at 5pm.

Oldham Council leader Councillor Jim McMahon said: "I am delighted we are welcoming The Halfords Tour Series 2011 to the streets of Oldham Town Centre and it promises to be a great day of sport, which residents can watch for free.

"This cycling event will provide a fantastic national platform to showcase the borough's positive attributes in front of a national television audience.

"The Tour's visit will have a positive impact on town centre businesses and will hopefully inspire residents to take up cycling, which will help improve their health and wellbeing.

"I would also like to thank all the local sponsors who have helped us to make it happen. It is clear evidence of the strong public and private sector partnership in the borough."

Halfords Marketing Director Gerry Murphy said: "As sponsors of The Tour Series we are committed to bringing both the thrills and spills of professional cycling up close to Oldham as the riders do battle for team glory and the ultimate prize of The Halfords Tour Series Leader's Jerseys."

The tour is a unique eight-round cycling race held on the streets of town centres across England with ten top British teams battling it out for the coveted Halfords Tour Series title. The other venues are Durham, Aberystwyth, Peterborough, Colchester, Stoke, Woking and Canary Wharf.

Olympic champion Ed Clancy, Great Britain team pursuit member Andy Tennant and Olympic bronze medalist Steven Burke, all gunning for London 2012, are amongst those taking part.

Teams compete to place their top three riders as high as possible in the finishing positions in order to gain their team maximum points.

There will also be a chance to win a Halfords Tour Jersey signed by competitors. To be in with a chance of winning simply log onto www.visitoldham.com and submit your name and contact details.