Killer driver forgiven by victim's family
Date published: 20 November 2012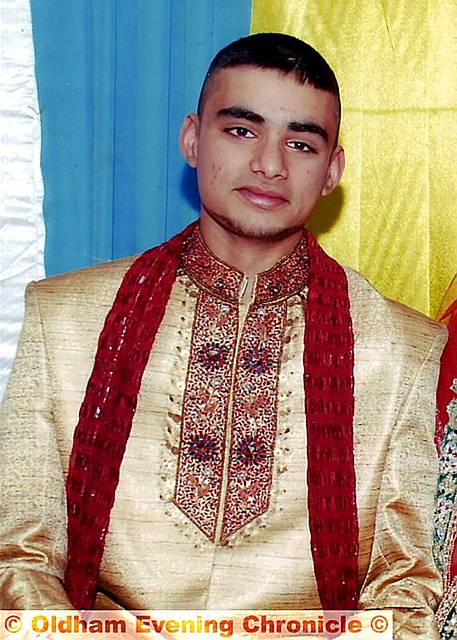 Mohammed Zain
A TEENAGE driver responsible for the death of a pal in a horror crash avoided a prison sentence after a judge was told that the boy's family had forgiven him.

Mohammed Zain (17), from Coppice, died from critical brain injuries shortly after the car, in which he was a rear-seat passenger, slammed into a telegraph pole and flipped on to its roof in Huddersfield Road, Denshaw.

The accident happened as a group of friends were returning home to Oldham after celebrating the Muslim festival of Eid on November 7 last year. They had first joined hundreds of other revellers in the Wilmslow Road area of Manchester, but then moved on to Rainbow Bridge at Saddleworth Moor.

Driver Rashid Mohammed (19) was said to have been urged to slow down during the six-mile drive back.

Manchester's Minshull Street Crown Court was told that one of his passengers shouted at him to reduce his speed as he cut bends on a dark road which could have been icy.

Another passenger said later: "It felt like he was trying to give us a rush."

David Rees prosecuting, said that Mohammed who owned the red Peugeot 307 in which they were all travelling, appeared to heed the warnings, but then accelerated again, finally losing control of the vehicle on a right-hand bend.

Mr Zain — known to family and friends as Ziggy — was unconscious when the car came to a halt.

Police and ambulance paramedics tried to revive him, but he was pronounced dead on arrival at hospital. The court was told that the car was one of three that set off from the Coppice area of Oldham for Manchester to celebrate Eid.

There had been some discussion about moving on to Bradford later, but the group went instead to Saddleworth Moor.

John Broadley defending, said his client was a hard-working and ambitious young man who hoped to go to university next year.

He said Mohammed, from Royal Close, Oldham had come from Afghanistan with his family to the UK in order to better himself.

He told the court: "The effect of this incident has been a tragedy for the deceased man's family who miss him grievously.

"Mr Mohammed was invited to the funeral which he attended, and he later went to the family's home, and was welcomed.

"They realise that it was an accident and are deeply sympathetic to his plight. They have forgiven him."

Sentencing him to eight months in prison, Judge Maurice Greene said he felt able to suspend the term for 18 months because of the fact that he had no previous convictions, he was a young man — but most importantly, that the victim's family had felt able to forgive him.

"I accept that you have shown considerable remorse, and you have a bright future ahead of you, unlike Mr Zain."

Mohammed who had pleaded guilty to an offence of causing death by careless driving, was ordered to carry out 250 hours unpaid work in addition to his suspended sentence, and has been disqualified from driving for three years.