Christmas past meets Christmas present
Date published: 17 December 2012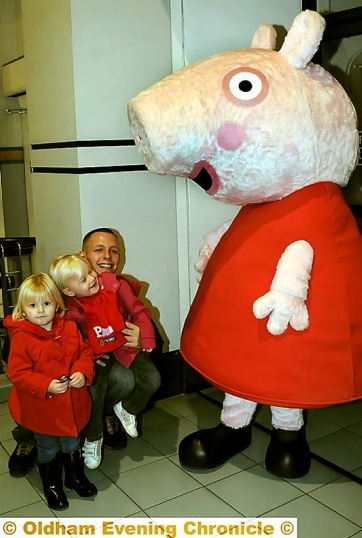 Photo: Pictures: CHRIS SUNDERLAND
TV favourite: Peppa Pig meets her fans.
HEAVY downpours and bracing temperatures didn't stop Christmas shoppers taking a step back in time in Oldham town centre at the weekend.

A traditional carousel, roast chestnuts and old-style funfair games were on offer as part of the seasonal Victorian Weekend.

A quirky quartet belted out classic carols with a twist, and a stunning stage show featured dancers in huge snow globes.

Dickensian characters joined snowmen, elves and Father Christmas to hand out free gifts and sweets.

Children's TV character Peppa Pig paid a visit to the Spindles Town Square Shopping Centre to add an extra dose of festive cheer and dish out balloons, hats and sweets to youngsters.

The Victorian Weekend is the last of a series of free events organised by the Oldham Town Centre Business Partnership and shoppers have enjoyed a reindeer parade, the lights switch on, an ice rink and a huge snow dome.



MEANWHILE Oldham bus station was alive with the sound of music on Saturday, as a local brass band spread some much needed festive cheer.

Christmas songs greeted passengers at Cheapside courtesy of Oldham (Lees) Band. First Bus bosses hired the band to put riders in the Cristmas spirit.