Attack on Geraghty hate campaign victim
Date published: 19 December 2012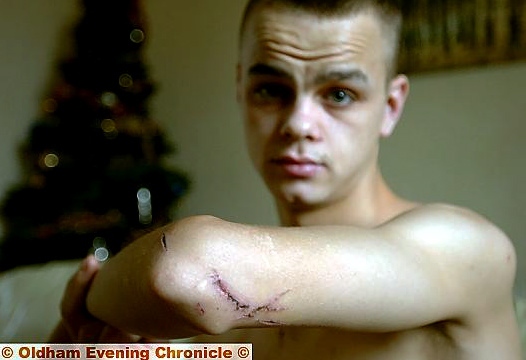 Photo: Picture: ANTHONY MILLER
TEENAGER Steven Allt after the attack, which left him with wounds to the head, arm and chest.
A TEENAGER once wrongly accused of the murder of Nellie Geraghty has been savagely beaten by three masked men.

Steven Allt (18) and his mother's partner Paul Robinson defended their Hathershaw home against armed intruders during an early morning raid.

The youngster was left with a three inch wound on the back of his head - believed to have been caused by a crowbar - when he was attacked in the early hours of the morning on December 5.

Three men wearing balaclavas and dark clothing smashed through the rear door of the house and attacked Mr Robinson.

Steven was assaulted as he tried to defend him - and suffered chest, back, elbow cuts and a head wound that later needed seven stitches.

His mum Michelle and disabled younger brother Terry were left in fear upstairs before the offenders ran off.

Steven, currently unemployed, said: "I should have been knocked out, but we kept fighting against them. After last year I was hoping for a good Christmas for the family. It was ruined last year and this was one hasn't got off to an ideal start either."

Last November Steven became a victim of the sinister side of social networking after being questioned in connection with the murder of 79-year-old Nellie Geraghty in Shaw.

The names of Steven and a 15-year-old friend were revealed on Facebook, after which the youth received a death threat and cruel online taunts.

Police eliminated the innocent pair from the investigation into Nellie's death and later arrested drug addict Mark Royle, who is now serving a minimum of 28 years for her murder.

Steven's father, Philip Allt (48) said Wednesday's attack has been a major setback in his son's recovery.

"He was doing fine, still having nightmares, but not as much. He is in a bad way after this, they really did lay into him."

Oldham CID is urging the public to pass on information on 0161 856 8951.