Daughter's fury as panic button charges soar
Date published: 28 February 2013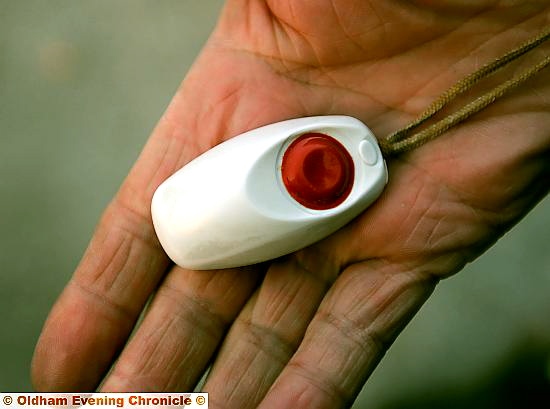 ON the spot: one of the panic alarm buttons
A DISGUSTED daughter has accused Oldham Council of putting lives at risk after hiking up the cost of their emergency response system by 122 per cent.

Freda Barnes's 92-year-old mum was advised to sign up to the Helpline Response Service — then run by First Choice Homes — two years ago after she fell and broke her hip and was unable to raise the alarm.

Freda says the "fantastic" service — which puts her mum instantly in touch with emergency assistance at the press of a button — gave her independence in her Diggle home and he family peace of mind.

But her mother has been forced to scrap the lifeline as the weekly cost is set to more than double in April from £1.35 to £3, eventually increasing to £5 over two years.

New users to the same level of "silver" service — which offers a visit from a staff member if family cannot be contacted — will have to pay £5 a week immediately. A new "bronze" service, which includes only call-handling, will cost £2 a week.

Freda said the family is now looking for an alternative emergency service.

"To my mind this is a life or death situation," said Freda. "Getting there quickly if there is an emergency can make all the difference.

"A lot of elderly people struggle and would be frightened to commit to more expense. It would increase from £17 to £49 a quarter for my mum, and that's too much.

"It's putting a price on people's lives as far as I'm concerned and flies in the face of the Government saying it wants to help keep elderly people in their own homes.

"That can obviously only happen if families are prepared to pay for it. We already pay for carers to come in four times a day."

Paul Cassidy, director of adult services, Oldham Council, said it wasn't a decision made lightly.

"Our charges reflect the £5 per week average charge made by other councils in Greater Manchester," he said.

The council previously paid £750,000 to support the service, but is now forced to ask users to pay a larger proportion. After the increase the council will contribute £440,000 a year.

Mr Cassidy added: "Most people accepted the need to raise charges but said the increase was too steep.

"We changed our proposals so existing users will pay the increase over three years."

Around 4,500 people, mainly in sheltered housing, use the service.