GCSE maths at 11... that's sum going
Date published: 03 May 2013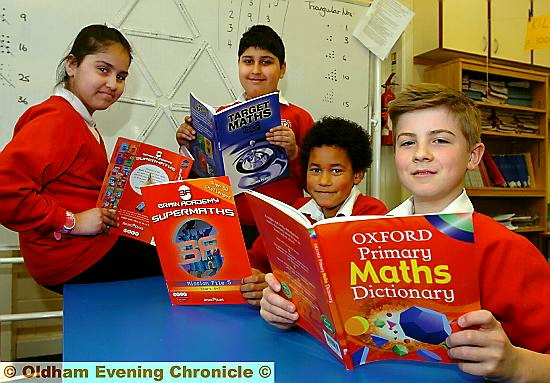 IT all adds up for (from left) Zaynab Khalid, Daanyaal Hussain, Cameron Husselbury and Kieran O'Reilly
FOUR talented mathematicians from Hey with Zion Primary School are sitting GCSE maths five years early.

Eleven year olds Daanyaal Hussain, Cameron Husselbury, Zaynab Khalid and Kieran O'Reilly are taking the exam at foundation level, which means they could get up to a grade C.

Cameron, Zaynab and Kieron will sit the exam at Hulme Grammar School on June 11 and 14. Daanyaal is doing a modular GCSE with a private tutor, which he will complete in June. Most students do GCSEs when they are 16.

Kieran said: "Every Tuesday and Wednesday we stay behind at school for tuition. You don't have to do it if you don't want to. It's an amazing opportunity because if you are good at something, you want to excel.

"I like maths because it links with everything. You get to think outside the box and it makes it interesting if you are doing something which is quite hard. You get excited because you think 'I can do that'."

While Kieran and Cameron want to attend the California Institute of Technology, work at NASA and be the first people on Mars. Daanyaal and Zaynab want to go to university. Daanyaal said: "I love all maths — it improves your mind."

The group is the first at the Lees primary to sit GCSEs. Year six teacher Andrew Clowes said: "Zaynab's mother asked us if we could help her work towards the GCSE which she was going to do independently.

"I thought if she was going to do it, I would invite the others to have a go."

Almost all Year six pupils at the school receive extra maths tuition at Hey with Zion.