Thousands sign up for safer crossing
Date published: 19 December 2013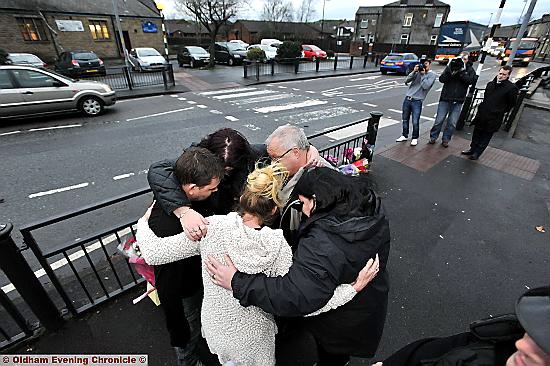 Photo: Vincent Brown and Darren Robinson
HEARTACHE . . . the family after laying flowers at the scene
A PETITION to install a pelican crossing at the tragic Milnrow Road black spot has already yielded 4,500 signatures.

The former head of Oldham Police traffic unit, Chris Gloster, is determined to have traffic-calming measures on the crossing, at the junction of Milnrow Road and Salt Street.

Mr Gloster hopes to put pressure on Oldham Council to devise a plans to prevent further tragedies.

"We've already had a lot of people sign, but we hope to get thousands of new ones in the coming days," said Chris.

"Our ultimate aim is for the council to come up with a scheme that will stop people being killed or seriously injured. We need to have traffic lights and pedestrian-control measures."

The petition has been backed by Councillor Howard Sykes, who shares the frustration of residents over the crossing's safety.

He said: "Local councillors have been asking for this crossing to be made safer and pelican traffic signals be provided for more years than we care to remember."

The petition is at www.ipetitions.com/petition/install-a-pelican-crossing-on-milnrow-road-shaw.



ONE Shaw resident plans to protest in public this weekend
Danny Shepherd has long campaigned for change and at 11am on Saturday plans to make his demands public: he hopes for a big turnout.

"Something has needed to be done for too long. It's got so bad that I just want to sit on that zebra crossing until something changes," he said.

"We think we will get a big turnout and cause some disruption to make people think about what's going on here. Everything about it smacks of danger. It shouldn't take a tragedy to force change, but this time we are going to carry it through."



COUNCIL leader Jim McMahon said a full review will be held into the safety of the crossing.
A minute's silence was held at last night's council meeeting before Councillor McMahon announced the council would respond to the concerns of local residents.

The crossing, near Salt Street, had raised concerns among local residents before pensioner Lynn Steele was killed by a car last January.

But Councillor Dave Hibbert said only three incidents had occurred in 14 years — though he admitted council statistics only covered reported incidents.