Crime hasn't paid for dozens of Oldham criminals
Date published: 07 January 2014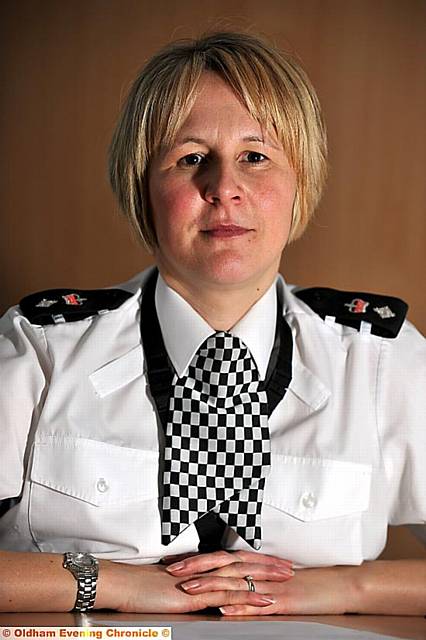 Chief Supt Catherine Hankinson
AN operation to smash organised crime across the borough led to 212 arrests last year.

Operation Caminada saw more than £1.5 million worth of drugs and £200,000 cash seized as part of the crackdown. And the bad news for criminals is — there's no sign of the operation slowing down.

Chief Supt Catherine Hankinson said: "This shows a strong message that crime doesn't pay and that all criminals working in organised gangs will be discovered.

"The operation has been a huge success but there is still more to be done."

Operation Caminada targets criminal groups, investigating every aspect of a suspected criminal's life including business interests, benefits and associates.

Ch Supt Hankinson added: "We want the people living glamorous lives from the proceeds of crime to feel targeted. We want them to know we are watching every aspect of their lives."

As part of the probe, police teamed up with the Department for Work and Pensions (DWP) to uncover fraudulent benefit claims by gang members and their families in excess of £650,000. Another 60 fraud investigations are still in progress.

"They may never have been reported or investigated and this money would have been lost."

The operation, run by one sergeant and six PCs, saw 212 arrests in 2013, many leading to lengthy prison terms. Drugs worth £1.5 million on the street were seized.

Over 200 premises were searched, leading to the recovery of £200,000 in cash and £186,000 in assets from gang members and their families and associates. Over 60 vehicles used by gang members were seized.

Some of the criminal activities uncovered during 2013 included more than 250 cannabis plants worth £120,000 - found on three floors of a derelict factory in Bow Street, Oldham, in February.

A Class A drugs factory in a residential garage in Fitton Hill was smashed in September and £100,000 worth of heroin was discovered during a series of raids in Chadderton in August.