Mencap 'mocked' in burglary blow
Date published: 10 January 2014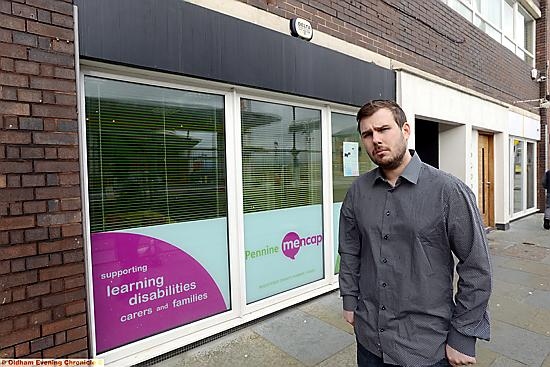 Chairman Elliot Sparks outside the burgled shop
A CHARITY which helps young people with learning difficulties feels it is being mocked after being left with just 55p by athief.

Pennine Mencap discovered it had been left with the change after its town-centre office in Broseley House, Union Street, was burgled and ransacked.

Charity trustee Elliot Sparks said: "A cash tin was broken and only 55p in coins was left behind — stacked neatly on top of one another next to the tin. It felt like they were mocking us.

Just under £100 was taken which might not seem a lot, but it would take a huge amount of time and effort to raise that money again."

The thief was caught on CCTV using an industrial-sized bin to reach a raised window, which he smashed with rocks.

Elliot added: "It feels like a kick in the teeth. We have had computers, laptops and a hard drive stolen and have no idea if we will be able to replace them.

"The hard drive contained footage of a film project which members had been working on and they had been writing and starring in their own films. We have been creating it for six months and, while we might be able to recover some of the footage stored elsewhere, a lot of it has been lost forever.

"The person responsible even used our own containers and bags to steal our equipment."

The team spent hours clearing up broken glass from the damage caused during the incident, while members turned up for regular events unaware of what had happened.

The charity provides a range of activities for young people with learning difficulties in Oldham, Tameside and Rochdale.

It creates opportunities such as performing arts and social evenings to help members learn, build confidence and enjoy themselves.

"While the money and the equipment is important, it is the way our members have been affected which is the biggest setback," Elliot said.

Police are investigating the burglary which happened on Wednesday at 3.30am and are examining CCTV images.

Anyone who would like to help Pennine Mencap is encouraged to contact Alex on 07966-881 109.