Next stop, town centre!
Date published: 20 January 2014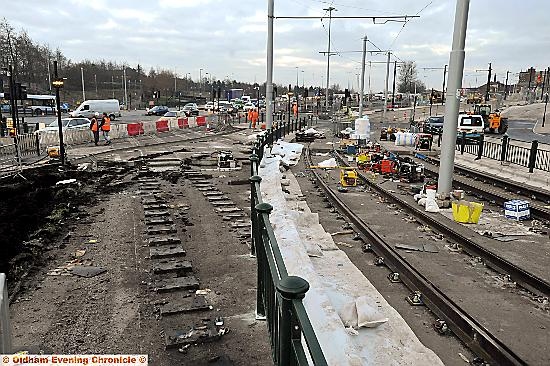 The scene this morning as workmen connected the town-centre tracks
WORKMEN have begun to connect up the tram lines that will bring Metrolink permanently into Oldham town centre.

Friday night marked the end of an era, as the old track at Mumps carried its final vehicle.

The last tram to use the line for Manchester left Mumps at 11.30pm, with the service returning to Oldham and Rochdale at 12.45am. The line then closed ahead of next Monday's long-awaited town-centre Metrolink 3B line coming into service.

The closure is necessary for final connections to fix the new line running through Oldham town centre to the existing Oldham and Rochdale track at Mumps and Werneth.

A replacement bus service carrying passengers to Central Park is in operation.

The work also saw road closures around Mumps from 9pm on Friday until 3pm on Saturday to allow overhead line equipment and poles to be permanently removed over the junction. The closure caused major traffic delays until the roads were reopened.

One motorist said: "It's a nightmare, you can't get anywhere. It has had a knock-on effect not only in Oldham but in Shaw and Chadderton because you can't get through. Everyone is trying to find ways around the edges.

"I got stuck trying to get into Oldham from Shaw, then got stuck on Broadway for ages, it's just chock-a-block."

When the line finally opens next Monday, it should see an end to the traffic disruption and frustration which has plagued motorists trying to get through Oldham for the last three and a half years. And it will firmly consign to history the Oldham loop line which carried trains from Manchester Victoria to Rochdale via Oldham Mumps.