Ellena aims to be best of brass
Date published: 21 January 2014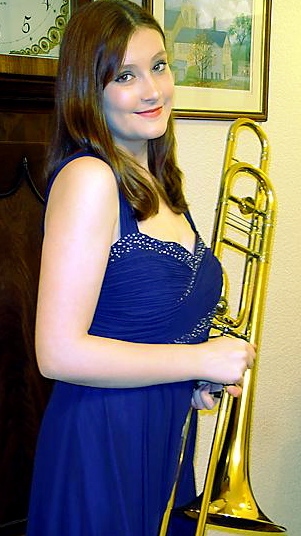 PRESTIGIOUS . . trombonist Ellena Newton (14) will perform on BBC TV in the brass final of "Young Musician of the Year"
TALENTED teenage trombonist Ellena Newton has played her way to the TV stage of the prestigious BBC Young Musician of the Year contest.

The 14-year-old trombonist in Oldham Music Centre's Youth Brass Band, already named as one of the top five young brass players in the country, will compete in the brass final of the UK's premier youth music competition.

Director of Music for Oldham Gerard Booth said: "This is a marvellous piece of news for one of our most talented musicians."

Ellena, a student at Manchester's Chethams School of Music, has played in Oldham Music Centre groups since she was nine, when she first started playing at Delph primary school.

She will be going on tour to New York with the music centre's brass band in July (see below).

The teenager successfully negotiated her way through the initial rounds of the BBC competition at the Royal Northern College of Music and Cardiff's Millennium Centre. She emerged from 130 of the nation's best young brass players in the top five.

The brass final will be in Cardiff on March 7, following which one player will play in the semi-finals.



NINETY young Oldham Music Centre students will enjoy a musical trip of a lifetime when they head for New York in July.

The young musicians will play concerts at several famous venues, including the bandstand in Central Park, and will make a guest appearance at the Long Island Music Festival.

The students have been drawn from various music centre bands, orchestras and ensembles, and the American public will be treated to a full range of musical styles when the best of Oldham's young musicians once more fly the flag for the borough.