Cregan detectives honoured
Date published: 31 January 2014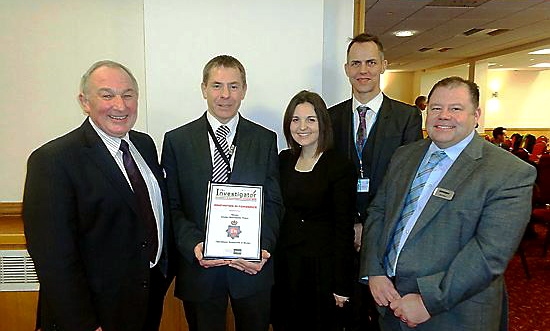 WINNING team: Alan Webster (head judge) DC Stuart Kay, DC Elaine Robinson, forensic scientist Daren Greener and Phil Vanes BM Polyco (sponsor)
METICULOUS work on the Dale Cregan case has won national recognition for a team of Greater Manchester detectives.

DCs Sandra Parry, Stuart Kay and Elaine Robinson processed more than 3,000 pages of mobile phone records and data during their investigations in advance of multiple-murderer Cregan's trial.

That work, which helped to send the killer and his associates to jail, earned the team the "innovation in forensics" prize at the Investigator Excellence in Investigations awards in Birmingham.

Cregan is currently serving four life sentences for the murders of Diggle's PC Nicola Hughes and Fiona Bone, as well as Mark Short and David Short.

GMP's Assistant Chief Constable Steve Heywood said: "This was a particularly difficult case to work on and the team worked tirelessly to ensure a successful outcome."

Cregan had recruited different gangs of associates to assist in each attack, which increased the complexity of the analysis of their contacts.

The jury at Preston Crown Court heard hours of communications evidence, which proved the links between Cregan and others who assisted in the Droylsden pub shooting of Mark Short and the shooting and grenade attack of David Short in his home.