Farm fires lead to £18,000 fine
Date published: 04 February 2014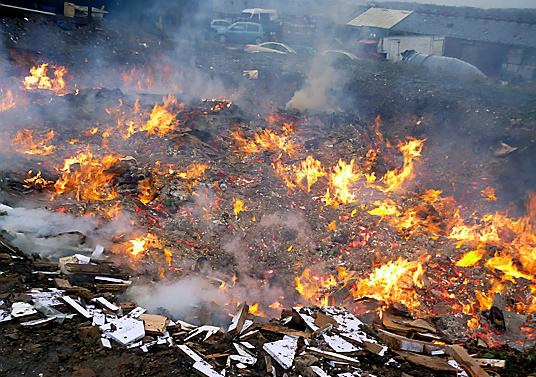 ABLAZE . . . rubbish burned at Whitfield Dairy Farm, in Shaw, included waste such as wiring, wood and a toilet from house clearances
TWO firms have been hit with an £18,000 fine after ignoring repeated warnings to stop burning rubbish on farm land.

Environmental health officers were called to Whitfield Dairy Farm, in Mossgate Road, Shaw, following complaints over deliberate fires.

Officers spoke to representatives of the two companies that own the land where the fires took place — Whitfield Dairy Farm Ltd and WDF Estates Ltd — and told them the smoke was a nuisance for residents in Shaw and Milnrow. Despite this, all types of household waste and tyres continued to be burned.

In August 2012 the council issued a Nuisance Abatement Notice — which the firms ignored. Council staff saw full household clearance items being burned, including tyres, a toilet, wiring, wood and plastic on two sites at the farm. Legal proceedings were begun.

Oldham Magistrates refused to believe the waste was burned without the owner's knowledge, and that the companies had failed to take reasonable precautions to prevent the fires.

The two companies were found guilty of breaching the abatement notice six times and fined £18,000 plus £2,900 costs.