Homes evacuated, school closed in gas tank leak
Date published: 10 February 2014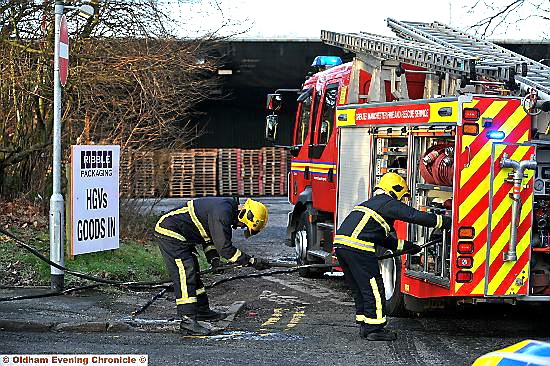 Photo: Darren Robinson
A FIRE crew at the scene of today's incident at Ribble Packaging in Greengate Street.
HOMES were evacuated and hundreds of children turned away from school this morning amid fears of a gas explosion.

Firefighters were called to Ribble Packaging in Greengate Street, Glodwick, around 6.45am, when the valve on one of two tanks containing 4,400 litres of liquid petroleum gas (LPG) started to leak.

Houses in nearby streets were evacuated as a precaution and roads cordoned off as the smell of gas filled the air.

Horton Mill primary school in nearby Southlink was also closed. Staff were sent home and 240 children turned away as they arrived.

Two fire crews, police and ambulance rushed to the factory. Watch commander John Nolan said staff were fuelling a forklift truck in a yard when the valve on one of the tanks sprung a leak.

He added: "There is no way of measuring how much LPG has escaped, but it was quite a large amount. It looked like a cloud about 3ft off the ground, all over the yard.

Firefighters isolated the leak and sprayed the gas with water to disperse it more quickly.

Crews remained to make sure the area was safe.