D-Day looms for £100m Foxdenton scheme
Date published: 11 February 2014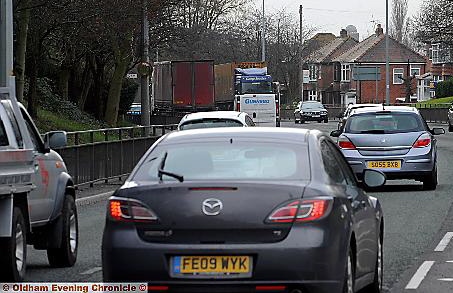 Increased traffic on Broadway is one of the fears of protesters
CONTROVERSIAL plans for Chadderton's £100m Foxdenton Lane development reach D-Day tomorrow when they go before Oldham planning committee.

The application is for outline and full planning permission for various parts of the development.

If plans are approved, the massive development will see largely open land transformed into a 120-acre site with up to 500 new homes, a linear park and industrial units including a 700,000 sq ft warehouse.

A new link road and more than 20 acres of public open space between Broadway and Foxdenton Lane would also be created.

Local residents have voiced strong opposition to the plans, including problems with traffic and a lack of local school places. English Heritage and the Chadderton Historical Society, have raised similar concerns. The council received 259 letters of objection when the application was initially submitted last summer; another 47 were sent in response to the revised application.

Other objections include the loss of privacy and light, that it might worsen flood problems in that area, and a possible increase in noise and pollution.

Christina Gater of the Foxdenton and District Protection Group is worried changes are going to slide through the planning process without major concerns being adequately addressed.

But the company behind the plans insists the proposals are in line with planning policy and will bring benefits to Chadderton and the borough as a whole.