That's the Wates to do it!
Date published: 24 February 2014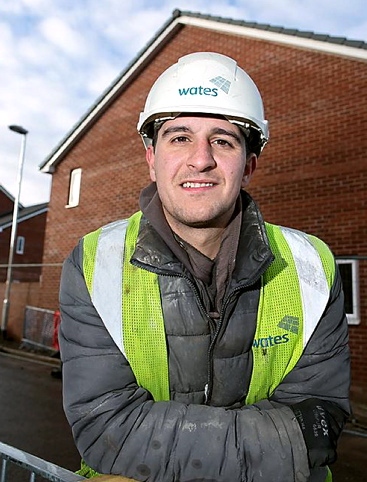 HARD work pays off... Wates trainee of the year Danny Greg
A HARD-WORKING Chadderton man has proved volunteering can pay - after winning the Trainee of the Year award by his bosses only 18 months after being spotted helping out in his home area.

While looking for work Danny Greg volunteered to clean the site cabins for Wates Living Space construction firm working at Petworth Road, near to Danny's home Crossley estate.

His work during the one-week placement was noticed by the site manager - who offered him a full-time job with Wates on the Gateways to Oldham housing project at Crossley.

Danny (26), said: "Before working for Wates I had been unemployed. I knew I had to go the extra mile if I was going to get a job so I volunteered to work free, so it would give me some experience to make my CV stronger. It obviously paid off!"

Danny has now been working on the Crossley project for 18 months: "I absolutely love it," he said.

"I'm offered loads of training opportunities and being able to contribute to the development of an estate I've grown up on is brilliant."

As well as his full-time production role, he has supported local unemployed residents and shared his experiences with local jobseekers.

His bosses and Oldham councillors are now encouraging others to follow in Danny's footsteps.

Joanne Jamieson, Regional Managing Director for Wates, said: "Danny showed determination and ambition to pursue a career in construction. He immediately shone and he has since gone from strength to strength. His enthusiasm to complete his work while helping other members of the team and jobseekers makes him more than worthy for our Trainee of the Year award."

The £113m Gateways to Oldham PFI project for Oldham Council will see around 700 new homes built or refurbished across four sites in the borough.