Lee's dad pleased by long jail sentences
Date published: 27 February 2014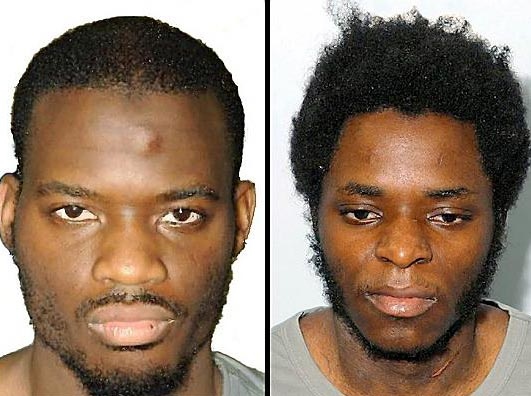 KILLERS Michael Adebolajo (left) and Michael Adebowale
THE Oldham father of murdered soldier Lee Rigby last night said the sentences given to his son's killers represent justice.

An emotional Phil McClure spoke of his raw feelings and dismay at violence and protests at yesterday's sentencing of the two killers.

Michael Adebolajo (29) and Michael Adebowale (22) were sentenced at the Old Bailey - though the process was completed in their absence after they fought with guards.

Adebolajo was told he would never be eligible for parole except in exceptional circumstances. Adebowale must serve a minimum of 45 years.

Speaking to the Evening Chronicle last night, Mr McClure (53), from Bardsley, said: "The sentences were right. The judge got it right and I was quite pleased at the outcome."

Speaking about the killers scuffling with guards inside court, he said: "Those two idiots kicked-off but the police had it all under control. The police dragged then downstairs."

Speaking about the demonstration outside court by political groups including the English Defence League and British National Party, Mr McClure said: "We didn't want that. The court case was not about that — it as about Lee. I'm not into violence or demonstrations. I wanted justice for Lee. This was about him."

A joint statement from Lee's family was read outside the Old Bailey. It said: "No other sentences would have been appropriate. We would like to thank the judge and court. We are satisfied that justice has been served."

Judge Justice Sweeney said the killing had been a barbaric bloodbath and the two killers who "gloried" in murder had betrayed Islam and had shown no remorse.

Fusilier Lee Rigby, from Middleton, was murdered as he returned to his barracks in Woolwich, on May 22 last year. The defendants drove into him at 30-40mph before dragging him into the road and attacking him with knives and a meat cleaver. His death prompted a huge outcry.