Lifting Mumps from the dumps
Date published: 28 February 2014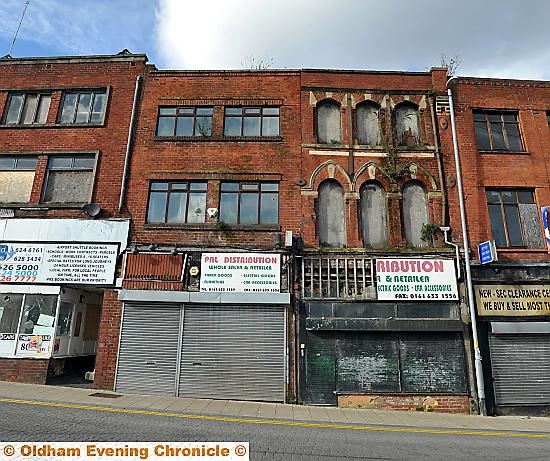 THE empty building which will house a restaurant, bar and offices as the regeneration of Mumps begins
THE long-awaited regeneration of Oldham Mumps is starting to take shape.

Plans have been approved for a new restaurant, bar and offices in a former nightclub.

Planning officers have approved a change of use for 9 -11 Mumps, which housed the Dreamers nightclub until 2000 and the Aladdin's Cave store.

The site - empty for several years - is directly opposite the new Oldham Mumps Metrolink stop.

The development, by applicant D&P holdings, marks the first step in the regeneration of the area, which has been in decline for over 30 years.

The plans say the three-storey building will include a bar and restaurant on the ground and first floors, with offices on the second floor. No parking provision has been included.

The building is in good condition and no outside alterations are needed to change its use.

Other vacant buildings nearby have been bought and demolished by the council as part of the plan for an "Eastern Gateway" investment zone, with shops, offices, leisure and home developments.