Fighting cancer is Kelsey's goal
Date published: 10 March 2014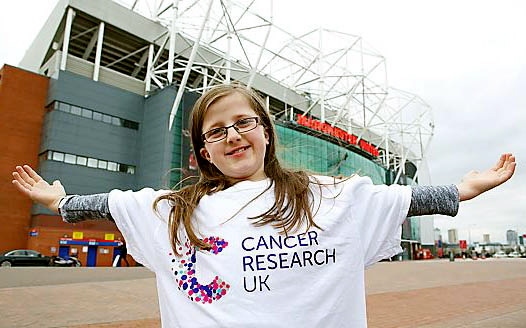 Kelsey Shyne-Slater outside The Theatre of Dreams
A ROYTON youngster diagnosed with cancer a decade ago is supporting research that saves enough lives each year to fill Old Trafford almost twice over.

Kelsey Shyne-Slater agreed to tell her story to highlight the latest phase of Cancer Research UK's 'Help Beat Cancer Sooner' campaign.

She and her family know how crucial new breakthroughs are after her cancer diagnosis in 2004.

Kelsey was only a few months old when doctors told he parents she had neuroblastoma. She spent six months having treatment at the Royal Manchester Children's Hospital before surgery to have the tumour removed.

Kelsey recovered and the grateful youngster has helped to promote Cancer Research UK's groundbreaking work ever since.

Kelsey's mum Melanie Slater (37), said: "We were absolutely devastated when we discovered Kelsey had cancer as a baby, but thanks to research and treatment, she is still here 10 years later."

The 10 year old posed outside Manchester United's world-famous ground to celebrate the fact that 150,000 people in the UK survive cancer every year - double the rate of 40 years ago. Around 45 per cent of sufferers survive the disease for more than 10 years.

The St Aidan and St Oswald's Roman Catholic School pupil said: "Anyone who has seen Old Trafford knows how vast it is. Over 75,000 people can fit in here on match days. So it's a real eye-opener to realise that almost twice as many people — almost 150,000 — will survive cancer because of research."

Last year, Cancer Research UK spent almost £21 million supporting the work of doctors, nurses and scientists carrying out research and clinical trials at hospitals and major universities in the region.