Nigel will always be in our hearts
Date published: 14 March 2014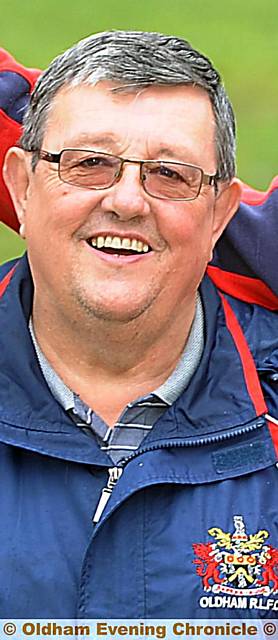 Nigel Marland
THE late Nigel Marland will be at the heart of everything his beloved Oldham Rugby League Club achieves in the 2014 season.

Roughyeds lost one of the club's stalwarts when the former teacher died in January, aged 65, but his support will live on at Whitebank thanks to a unique memorial.

The team's new home kit carries the inscription: Nigel Marland, 1948-2014 — a tribute to an individual which is believed to be the first of its kind in the 130-year history of Oldham Rugby.

Replica home-kit jerseys worn by supporters will be identical.

Club chairman Chris Hamilton said: "Nigel's name is purposely positioned on the left breast, above the club crest, because that's where the heart is and because Nigel's heart was always close to the heart-beat of the club.

"He was a massive part of our club and this is an appropriate way to remember him. He will be with the players every time they put on the home kit and take to the field, and that would have suited him just fine.

"We believe this is a first in the long history of Oldham Rugby and I'm not aware of any other club doing it either. It's a measure of the respect and esteem in which he was held by me personally and by lots of other people at the club, including coaching staff and players."

Nigel's brother John said: "We're absolutely flabbergasted. Nigel would have been so proud. It's just fantastic."

And sister-in-law Gail added: "He'll be looking down at us from heaven with his wry smile. He'll be absolutely made up by this because Oldham RLFC meant so much to him and had done all his life."

At the time he was taken ill with heart trouble last November, he was chairman of ORSA (the club's supporters' association), editor of the match-day programme, match-day PA announcer and the man who had instigated and organised a Squad Strengthener Fund to assist Roughyeds in the signing of new players.

He was a teacher in Oldham for more than 30 years, most of that time spent at Hathershaw School where he was a head of year and later deputy head.

He also had a lifelong connection with The Lyceum Theatre, Union Street where he was artistic director for many years.

Following his death, donations in his memory totalled £1,030 which has gone to the Acute Coronary Care Unit at Wythenshawe Hospital to be used specifically for the needs of patients.

John added: "It was Nigel's expressed wish that the money should go to the unit, but only to be used directly for the benefit of the patients in there."

The club has also had a boost with Regenda and Oasis Academy Oldham becoming shirt sponsors for the first time.