Danger crossing options on the table
Date published: 19 March 2014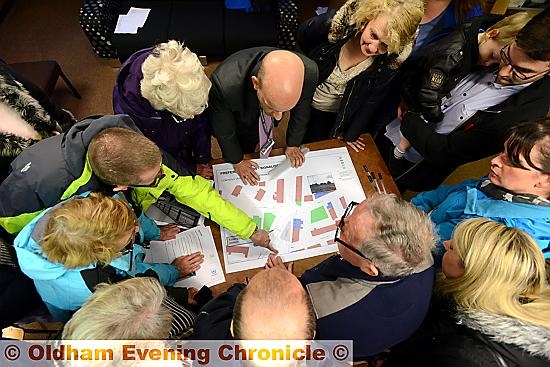 OPEN to consultation . . . options to improve safety. Picture: ANTHONY MILLER
Four solutions for safety upgrades at a Shaw pedestrian crossing on which an 11-year-old girl and a pensioner were killed were revealed at a meeting in a packed Crompton Library last night.

Local people sparked a storm of protest when 11-year-old Annalise Holt and her friend were hit by a van on the Milnrow Road, Shaw, crossing in December - a crossing that had already seen the death of pensioner Lynn Steele in January, 2012.

Oldham Council's preferred option for improvements to the crossing - due to be completed by September, is for signals at the crossroads of Linney Lane, Salt Street, Crompton Way and Milnrow Road, which would include a "puffin" crossing at each crossing point controlling pedestrian and vehicle movement. A puffin crossing differs from the more familiar pelican type in that the lights controlling pedestrians are on the near side of the road rather than on the opposite side.

The system also uses sensors to detect pedestrians waiting at the crossing and on the crossing.

This solution was backed by local Councillor Mark Alcock, who saw it as the most sensible way to boost safety standards.

Another option is a radical redesign of the road layout, to see an island created in the middle of the road to calm traffic on both sides by narrowing the carriageway.

This system was backed by Councillor Rod Blyth who felt it was the best way to increase safety while ensuring that businesses in the area don't suffer.

The third option would implement the first solution but would also include a compact roundabout installed close by.

The final option would simply see a puffin crossing installed at the site of the current zebra, with the road layout unchanged.

Some residents suggested the preferred solution might cause problems for traffic flow, at peak hours causing traffic to back up down the bypass.

The plans will go on display for comment and final plans will be presented at the next Shaw and Crompton Community forum on June 24.