Going walkies!
Date published: 01 April 2014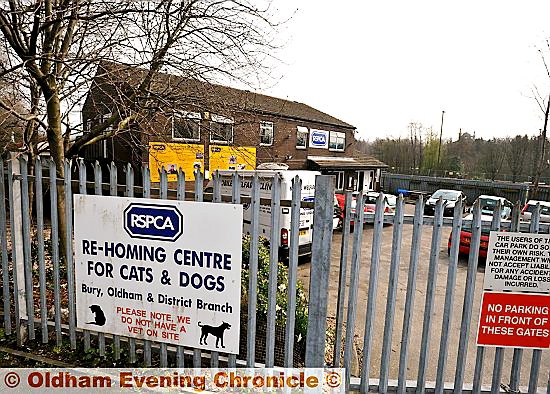 THE present RSPCA shelter at Rhodes Bank.
RSPCA shelter to be rehomed
AFTER spending years finding new homes for cats and dogs, the RSPCA is getting ready to be re-homed itself after agreeing to the sale of its current base to Oldham Council.

The charity will move from Rhodes Bank to Strinesdale, it was revealed at a meeting of the council's cabinet last night.

The site, which currently houses the RSPCA Bury and Oldham district branch and shelter, forms part of the council's plans to improve the Mumps area.

The centre, which houses a cattery and dog kennels, was told early last year that, as part of the major regeneration scheme taking place throughout the town, the council would be demolishing anything standing on the land the council owned around Rhodes Bank.

Vikki Walsh, animal care manager at the RSPCA shelter, said: "We are very happy to have a firm idea about what will be happening after years of uncertainty.

"It was a tough search to find a new home but we are really happy about the new site," Vikki added.

"It's bigger than the current premises on Rhodes Bank and more suited to our needs.

"Hopefully it means we will be able to expand some of our services and take in more animals in future."

The site will need renovation before the shelter can move, some of the cost of which the council will pay. It is expected that the move will take 12-18 months.