Slaughter of the innocents
Date published: 07 April 2014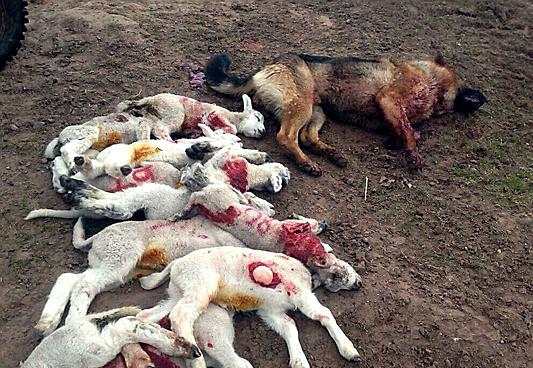 THESE lambs were slaughtered by the dog seen here, shot by the farmer
Anguish of farmers as dogs allowed to roam
This macabre picture shows the shocking slaughter of innocent young lambs by a renegade dog.

The chilling image underpins a tough warning issued today urging dog owners to keep pets on a short lead to protect farm animals and wildlife during the spring and early summer..

Worried national park officials, who cover Dovestone and parts of Saddleworth, say farmers have already reported incidents over the past few weeks.

And the National Sheep Association (NSA), say the killing of livestock is becoming a "persistent problem".

Our photograph comes from sheep farmer Darren Hough from Wharmton, which overlooks Uppermill and Greenfield. Taken by another farmer, it shows young lambs brutally killed by a dog which also lies dead, shot by their owner.

Mr Hough, who has lost newly-born lambs to dog attacks, said: "It shows the real horror our flocks face from marauding dogs let loose my irresponsible owners."

Claire Crowther, whose family has a 9,000 acre farm above Dovestone, said: "The Chronicle picture shows the reality a lot of people won't want to see. But they need to know that's what happens when they don't train their dogs.

'"We had a particularly bad attack on a ewe which had to be destroyed. The worst part was it was deliberately targeted by men in a van.

"Dog attacks are constantly happening," she declared. "We lose loads of sheep a year through mindless people letting their dogs run around everywhere.

"Even if the dog isn't actually grabbing the sheep, damage from stress, especially to unborn lambs, can cause lambs to be aborted or die inside the ewe, eventually killing the ewe too."

National park ranger manager Jenny Waller said: "Walking a dog is one of the joys of the countryside, but all dog-owners should think about young animals and keep their pets on short leads during this particularly sensitive time."

By law, dogs must be under control on public rights of way and on a short lead on open access land from March 1 to July 31. In fields containing farm animals and nesting birds it is sensible to keep dogs on a lead.