Till death us do part
Date published: 08 April 2014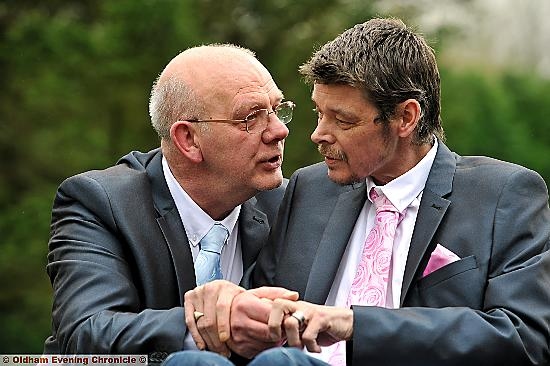 Photo: Darren Robinson
Cliff Byram-Leach (left) and his partner Richard at Dr Kershaw's Hospice.
THIS is the touching moment terminally-ill Richard Byram and his partner Cliff Leech tied the knot in Oldham's first same-sex wedding.

There wasn't a dry eye when Richard (42) and Cliff (58), who both live in Oldham, said their vows yesterday at Dr Kershaw's Hospice to take the surname Byram-Leech.

The couple had planned to marry on July 5, but as Richard's health continues to deteriorate they decided to bring the wedding forward and hold it at the hospice, which is caring for Richard, who suffers from lung cancer.

The two have been inseparable since they met in Blackpool more than 23 years ago, Cliff from Manchester and Richard from Carnforth.

Cliff said: "When Richard was diagnosed we said straight away we should get married. It seemed fitting to get married, given the circumstances."

The couple ended up in Oldham because Holts estate was the only area in which they could find suitable house 20 years ago. They have lived there ever since.

Richard was diagnosed with cancer in October.

Though the Chronicle reported last week that Greater Manchester's first same-sex marriage was to be Oldham women Natalie Brophy and Tracy Wild - who wed today - Cliff sprung into action on Sunday and planned he and Richard's big day in hours so they could be first.

Natalie said: "I'm really happy for them. It's obviously happy and sad at the same time for them, but it's great they have managed to do it."

New laws came into force at the end of last month making same-sex marriage legal and friends and family from across the country came to celebrate the union of the two men. Cliff said: "We were never in any kind of rush to be the first gay married couple in the area — it just happened this way."

Friends, family and hospice staff packed the service room at Dr Kershaw's as the song "Unchained Melody" played. The ceremony was conducted by Oldham registrar Bridget Gent.