Diggle School's a done deal
Date published: 09 April 2014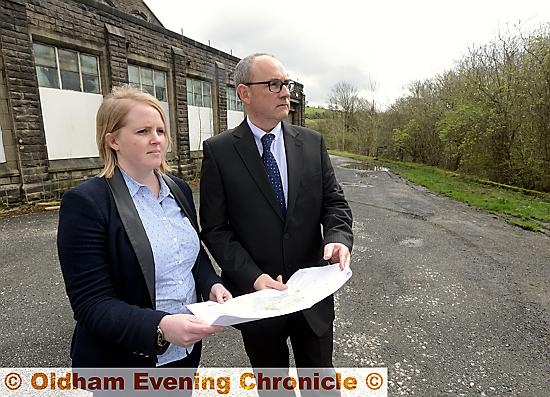 COUNCILLOR Amanda Chadderton and headteacher Matthew Milburn at the site of the new school.
FINAL legal agreements have been signed to confirm a new Saddleworth School will be built in Diggle.

Relocating the school from Uppermill has been mired in controversy. Opponents argued it will devastate the village, but supporters welcomed the opportunity for a new school for the area.

Oldham Council today confirmed it has signed papers build the multi-million pound school at the former Shaw Pallet Works off Huddersfield Road.

The authority has been in negotiations to acquire the land, part of which involves exchanging the land on which the existing school stands. The option agreement now enables the council to complete the purchase over the coming months, following the granting of planning permission in the summer.

After that the council, the government's Education Funding Agency and the school authorities will draw up detailed plans for the works.

Councillor Amanda Chadderton, cabinet member for education, employment and skills, visited the site to discuss the plans with Saddleworth School headteacher Matthew Milburn.

She said: "We know some people in the local community have expressed concerns about the plans. It's now our challenge to come up with a scheme of associated works that can deliver the best possible solution on these matters — and we are passionate about succeeding in that task."

Full demolition of the pallet works isn't necessary but some parts of the upper storey will be removed to prevent the possibility of partial collapse.