Orders from above
Date published: 16 April 2014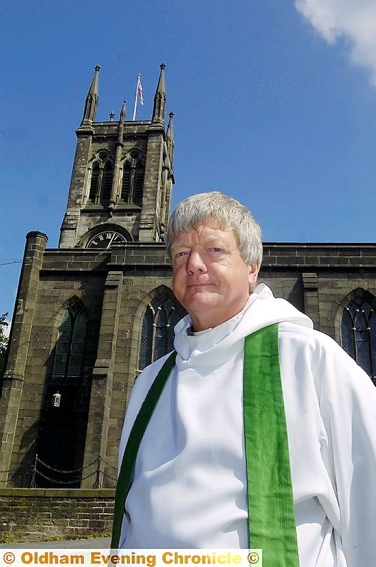 POPULAR . . . Rev Howard Sutcliffe has the support of his flock
Parishioners have flocked to the defence of a popular vicar who has been told he must quit his post when he turns 70 in June.

A heartfelt appeal signed by more than 80 irked locals has been sent to church hierarchy in a bid to keep the Rev Howard Sutcliffe — an unpaid, part-time vicar — at St Chad's, Uppermill.

Father-of-five Mr Sutcliffe, a former local Labour councillor, will have to quit the vicarage, where he lives with physiotherapist wife Truda, when he is 70 on June 14. The pair have lived there since he took over the parish in 2009.

The letter, addressed to the Rt Rev Mark Davies, Bishop of Middleton, says: "Many members of the congregations of the parish of St Chad are gravely concerned.

"Howard is part-time, with limited involvement in the running of the parish, no role in the Parochial Church Council and no stipend. If there was a successor waiting to fill Howard's post, he would vacate the vicarage and stand aside. However there is no indication a successor will be available for some time. Howard has indicated his willingness to have permission to officiate, a wish that large numbers of his congregations wholeheartedly support."

The letter points out that other members of the clergy who are working past the age of 70 include a bishop and another minister who still has permission to officiate at local places of worship.

The letter adds: "Next year will be the 800th anniversary of St Chad's for which various high-profile celebrations are planned, and we still need a steady hand at the helm."

Mr Sutcliffe also ministers to congregations at Lee Street Parish Centre in Uppermill and Kiln Green Church, Diggle. He was formerly vicar at St Paul's in Ashton Road, Oldham.

A spokesman for the Diocese of Manchester said: "It is national Church of England policy that all clergy retire from their duties at the age of 70. Clergy may apply to the diocesan bishop for permission to officiate beyond this date, but in the case of Rev Sutcliffe such permission has not been sought."

The diocese has schemes to assist retiring clerics with housing and other advice, if required.