Car-reg check nets hundreds of drivers
Date published: 25 April 2014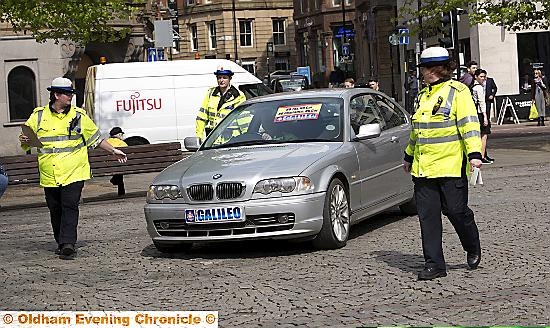 IMPOUNDED: a BMW taken off the road under Operation Galileo
GREATER Manchester Police launched its biggest ever automatic number plate recognition (ANPR) operation yesterday and seized 24 cars worth a total of £250,000.

In Oldham six traffic offences were recorded, one person was summonsed to court, one motorist was advised on their manner of driving, one person was stopped and searched and one stolen vehicle was recovered.

Officers were stationed near specific ANPR sites in Oldham and throughout Greater Manchester to react to vehicles flagged up by the cameras.

Over 250 officers in more than 100 vehicles took part in Operation Galileo using Greater Manchester's extensive camera network to stop over 870 cars for not being licensed, insured or taxed.