Dead body in house for a year
Date published: 02 May 2014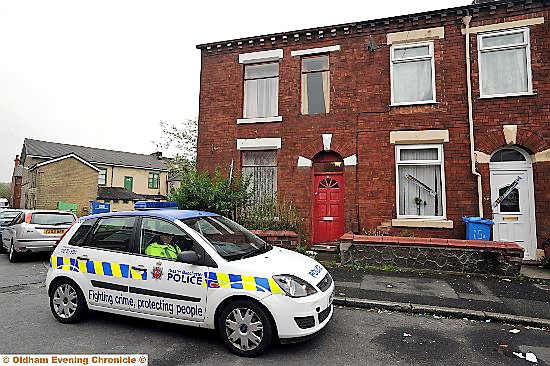 AT the scene . . . on South Hill Street, where the body was found
A MAN lived with the body of his dead mother for up to a year, police believe.

Dena Petryszyn (96) was discovered by officers at the terrace house in South Hill Street, Glodwick while her son continued to live there.

Neighbours have spoken of their shock at the discovery — some said they had not seen the woman for two years.

Police said a man had been arrested on suspicion of failing to notify the death. The Chronicle understands he needs hospital treatment for malnutrition and other problems.

Mrs Petryszyne lived at the property with her son, Michael.

Last night police remained at the dilapidated house, home to Mrs Petryszyn, a widow, for more than 40 years.

Barkat Ali (61), who lives opposite, said Mrs Petryszyn was Italian while her late husband was east European. Mr Ali's daughter raised concerns with the police when they hadn't seen Mrs Petryszyn for nearly two years.

He said officers initially spoke to her son and didn't go into Mrs Petryszyn's house.

Mr Ali added: "It is a shock. She was a nice lady. Her husband died about 25 years ago. I have lived here for 42 years and they were here before me."

Another neighbour, Mohammed Rashid, said: "It was a shock to see the police. I had not seen the lady for two years — I assumed she had moved or gone to an old person's home. I pass the house five times a day to go to the mosque and didn't notice anything."

This morning, Greater Manchester Police confirmed a woman's body had been discovered and said a man had been arrested in connection with it. A spokesman said there are currently no suspicious circumstances concerning the death.