Voting begins
Date published: 22 May 2014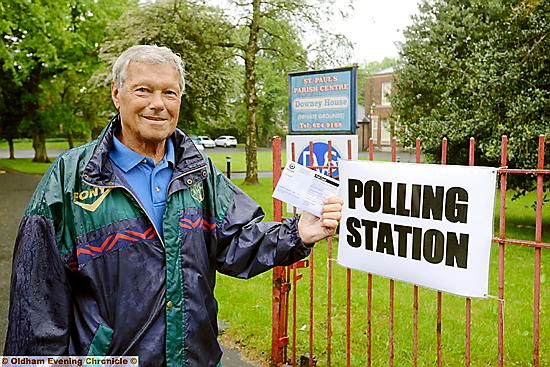 EARLY voter: Kenneth Dean outside the Downey House polling station in Royton
OLDHAMERS went to the polls today to cast their votes in the local and European Parliament elections.

Polling stations opened at 7am with 21 Oldham Council seats up for grabs, one in each of the 20 wards plus a by-election in another seat in the St James ward.

The local election count — voters have until 10pm to cast their vote — will take place in the Queen Elizabeth Hall tomorrow afternoon. And the the results, as they come in, can be tracked by following us on Twitter @oldhamchronicle or liking our Facebook page www.facebook.com/oldhamchronicle

Elections are also taking place to choose the North-West's eight Members of the European Parliament (MEPs). In the Euro elections the public simply vote for a political party not an individual candidate.

That count will take place at the Queen Elizabeth Hall on Sunday at approximately 5.30pm..

Meanwhile, Oldham Council is encouraging residents to use their right to vote and stressing that if anyone has any evidence of an electoral offence having been committed, to contact the police immediately.