Labour increase council stranglehold
Date published: 26 May 2014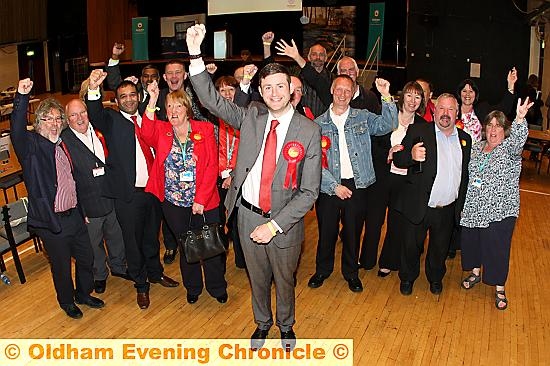 WE did it . . . Council leader Jim McMahon celebrates with his Labour colleagues
COUNCIL leader Jim McMahon was "delighted" with Labour's results from the local elections - despite tense moments and shock results.

His party retained 12 seats, gained another two from the Liberal Democrats in St James and Waterhead as well as the seat left vacant in St James, but lost one seat to UKIP. taking the Labour total to 45 out of 60 seats.

Councillor McMahon said: "Overall it is a great result for Labour. UKIP have come from almost nowhere but are close in some wards and all parties need to think about what that means.

"Locally, we need to be a party that addresses housing, jobs and education for all and concentrate on the regeneration of Oldham, which is already underway."

Councillor McMahon said he was proud of the Labour, Lib-Dem and Conservative parties for running a "clean" campaign.

"We agreed a long time ago to not get dragged into gutter politics, something that UKIP have clearly not subscribed to," he said. "But they will be held accountable for what they have said and done during the campaign."



RETURNING to the council after a five-year absence is Labour's Riaz Ahmad, a former councillor and Mayor of Oldham, who will represent the Waterhead ward.

Councillor Ahmad originally stepped down from the council after spending 16 years representing the people of Oldham when his job as the Chair of Oldham Primary Care Trust began taking up too much of his time.

With that role now at an end, he is rejoining the council.