UKIP hooray!
Date published: 26 May 2014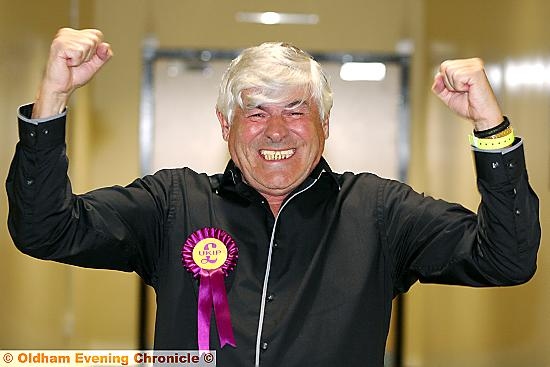 CELEBRATION . . . Warren Bates punches the air in delight after his victory over former Oldham Council leader John Battye. Picture: PAUL STERRITT
UKIP says it now has a foundation to build on after gaining the party's first-ever seats on Oldham Council and dominating the European elections.

Labour strengthened its grip on Oldham Council by winning 15 seats to increase its majority over the Lib-Dems to 35. The opposition held only three of its seven seats, leaving only 10 councillors.

But it was UKIP who created history in the borough with community activist Warren Bates springing a surprise to beat former Oldham Labour leader John Battye in Failsworth West.

He was followed by Peter Klonowski, who took the Saddleworth West and Lees ward from the Lib-Dems to give UKIP two seats in the council chamber.

Councillor Bates said: "I will get this town back up and moving" and claimed "UKIP is the only party of hope."

UKIP just missed out on more success when Stephen Connor lost by 12 votes to Labour's Joy Wrigglesworth in Chadderton South.

Following a major offensive by the controversial anti-Europe party, UKIP gained votes across the borough to come second in several wards. Controversial candidate Joe Fitzpatrick, who left Labour for UKIP and was involved in a row over an election leaflet, came third in St James where both seats were taken by Labour.

Mr Fitzpatrick said: "We have done fantastically well. We've got a good foundation now."-

Delighted council leader Councillor Jim McMahon said: "There were some tense moments but overall it is a great result for Labour.

"UKIP have come from almost nowhere but are close in some wards and all parties need to think about what that means."

There was a further shock in Saddleworth North where Independent candidate Nikki Kirkham claimed a landslide victory, ousting veteran Liberal-Democrat councillor Alan Roughley. She said the controversy over moving the location of new £17million Saddleworth School from Uppermill to Diggle was the tipping point."

The result leaves Oldham Council as; Labour 45, Lib Dems 10, Conservatives 2, UKIP 2 and one Independent.