Killer Danny: leak shows big failings
Date published: 28 May 2014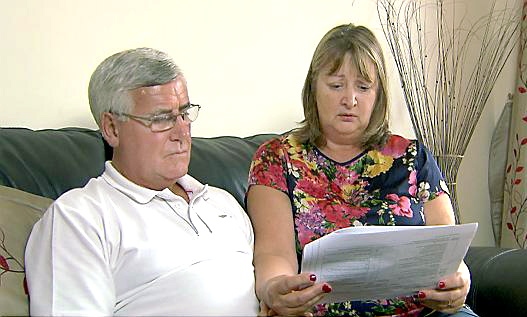 Danny Fitzsimons's father Eric and stepmother, Liz read the report. The BBC documentary claims that security firm G4S was aware of crucial screening failures months before Danny murdered two colleagues in Iraq
A BBC programme claims that security firm G4S was aware of crucial screening failures months before an armed guard murdered two colleagues in Iraq.

Danny Fitzsimons, a former pupil at Our Lady's School, Oldham, was sentenced to a minimum 20 years in 2011 for killing Scot Paul McGuigan and Australian Darren Hoare in Baghdad in 2009.

All three were working for UK security firm G4S, which was operating under the name ArmorGroup in the region.

BBC Scotland's new current affairs series, Scotland 2014, claims to have seen a leaked copy of the internal investigation report by G4S after the shootings.

It says in March 2009 — five months before the shootings — G4S carried out two audits reviewing the screening policies and practices of G4S Risk Management. The first, it is claimed, found the screening procedures for G4S RM only obtained "basic disclosure of criminal records" and "a number of personal files did not include criminal records checks". The second found that contractors who had worked previously for G4S RM and returned after long periods between assignments were barely vetted at all.

The report also shows the screening and vetting process that Danny Fitzsimons, from Rochdale, underwent. Basic documents such as a completed application form and military references to cover the years he was not working for G4S were missing while details given on his personnel form were "incomplete and inappropriate".

The programme claims the criminal records bureau certificate, which would have flagged previous convictions, was never obtained, and that he was on bail facing other criminal charges.

The day after the file should have been signed off, Fitzsimons was deployed to Iraq.

Mr McGuigan's mother Corinne Boyd-Russell, who lives in Innerleithen, is calling for answers from G4S.

She told BBC Scotland: "Why would you put guns into the hands of men who hadn't been vetted properly or screened properly? Why do that? If they had implemented their processes my son would be alive today.

A BBC documentary about 18 months ago claimed that G4S was warned by one of its own staff not to employ Fitzsimons as the staff member felt he was a risk to the public.

An inquest into the shooting of Mr McGuigan, a former Royal Marine from Peebles in the Borders, is due to take place in the autumn. His family and that of Mr Fitzsimons are calling for a public inquiry.