Pet owners warned over animal traps
Date published: 10 June 2014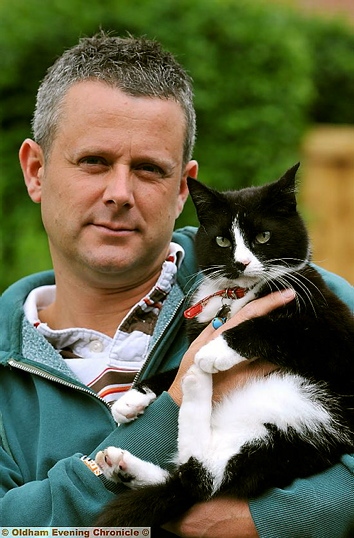 WARNING to pet owners . . . Jon Baylis and his cat George, who was caught in a snare.
RESIDENTS are concerned for the safety of their pets after a cat was caught in a snare on recently cleared land on the Foxdenton development site.

Sightings of possible poachers using guns to hunt and kill animals in Chadderton have also been reported.

Jon Baylis, who lives in Derwent Drive, said his cat George was caught in a wire noose attached to a stake.

Mr Baylis (39) said: "My cat regularly visits the fields on the Foxdenton site. Luckily my neighbour spotted my cat with the metal wire wrapped round its neck and managed to remove the snare.

"The fields are regularly used by dog-walkers, so maybe other traps will be found."

Snares are usually set to catch foxes or rabbits. But an RSPCA survey showed only a third of the animals caught in snares were the intended victims. Cats, deer, hedgehogs and squirrels are also frequently caught.

A spokesperson for the RSPCA said: "We are opposed to the manufacture, sale and use of all snares and any traps that cause suffering. Anyone with information about who is setting the snares is urged to call the RSPCA appeal line (0300-123 8018)."

Oldham Council is also urging anyone who comes across a snare trap to report it to Environmental Health on 0161-770 2244.

The police advise anyone who spots suspicious activity to contact them as soon as possible.