Heartbreak family's tribute to loving Lisa
Date published: 26 June 2014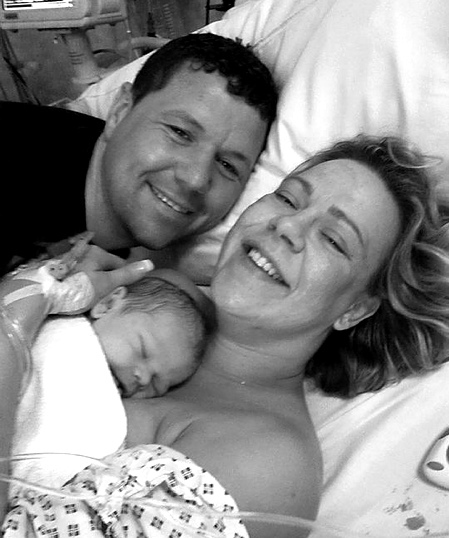 Happy family: Lisa and partner Chris cuddle up with baby Zac
THIS joyful picture of new mum Lisa Parkisson cradling her precious baby boy with her partner was taken only two days before she died in hospital.

Lisa, who would have been 36 today, was found by a midwife at the Royal Oldham Hospital early on Monday morning after giving birth to baby Zac on Saturday.

Her devastated family have issued a heartfelt tribute to their "beautiful and funny" girl, who was loved by many.

Her sister, Alison Ziemniak (40), said: "Everyone was always saying how beautiful she was and how she had an infectious personality. Suddenly she isn't with us anymore.

"I never thought she would have children but it was wonderful to see her excitement build. When he was born she was over the moon and delighted to be a mother. I have five children of my own and it meant the world to me to see her with Zac.

"We were already making plans to do the school run together as Lisa said she wanted to get some practice in. It's a tragedy to lose her."

Her partner of more than two years and the father of her newborn son, Chris Harding, said he was "numb".

Chris, who lived with Lisa in Derker, said: "My heart feels like it has been ripped apart.

"We were together for two and a half years and they were the best two and a half years of my life.

"I loved her so much and I know that she loved me. But now I have to be strong for Zac.

"It is the small things that get to me the most, just walking in through the door at home and not being able to say 'Hello, I'm home' to her."

Lisa's mum Judith Smith said: "We are a very close family, we will get through this together. I know she died with happiness in her heart."

Her father Robert Parkisson added: "She was a real wild-child, always off travelling and going to festivals. She did more in her short life than I have ever done with mine and we were all so proud of her.

"She was the type you never expected to have children - but she had everything ready for Zac's arrival. It is devastating she had only two days with him. There is a hole in our lives now."

Lisa was found by a midwife who wanted to check on Zac and went into her room to find him. Lisa was unconscious and a team of doctors and nurses tried unsuccessfully to revive her.

Mr Parkisson said: "We still don't know what happened to her. We don't blame anyone for her death but we have a million questions."

Hospital bosses are investigating the circumstances of Lisa's death.