Farmer's final journey
Date published: 27 June 2014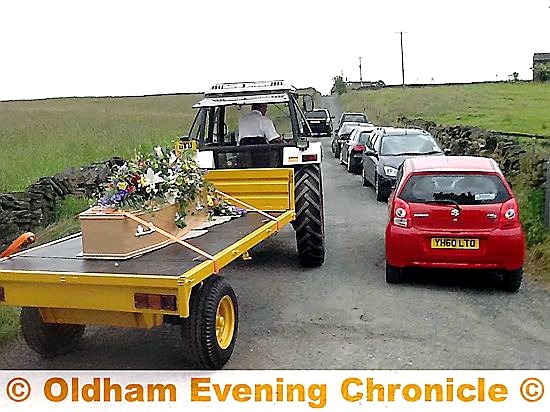 Farmer Robert Matthew Holroyd makes his final journey
LOCAL people nodded a sad farewell to a true man of the soil as farmer Robert Matthew Holroyd (41) made his last journey by tractor-pulled farm trailer.

Mr Holroyd' flower-decked coffin trundled down the lane to his farmhouse - where his parents, children, grandchildren and friends gathered to pay their final respects to the father of three.

Earlier, at a service at St Thomas Church, Moorside, Robert was remembered with affection and touching tributes.

Saddleworth's farming community turned out in force in a convoy of 4x4s and farm vehicles to pay their respects, with fellow farmer and school friend, Bernard Sykes (55), from Springhead, driving Robert's tractor and the trailer on its return journey from the church.