Mum feared for her baby's life
Date published: 07 July 2014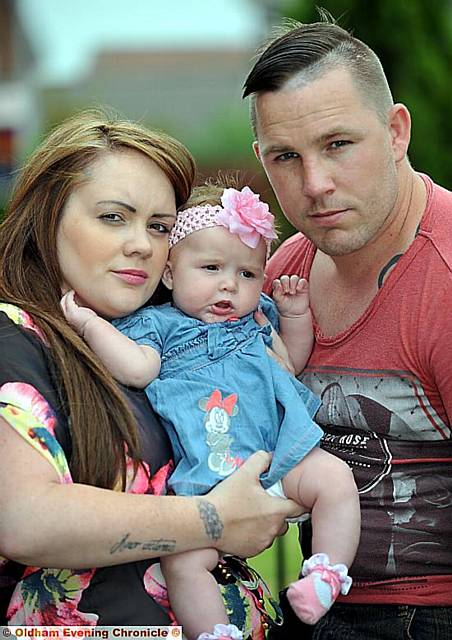 Kirsty Edwards, Alyzia Riley and John Riley.
A NEW mum has hit out at the care on the maternity and postnatal wards at Royal Oldham Hospital, saying a catalogue of errors made her fear for her life and that of her baby girl.

Kirsty Edwards claims she was first wrongly induced and then left without painkillers during a traumatic 60-hour labour before being given an emergency Caesarian section.

She says she was then prescribed someone else's medication during her postnatal care.

Miss Edwards (28) was delighted when she was told her round of IVF had been successful and she was pregnant with Alyzia Riley, now 15 weeks old, after being told she may never have children.

Following a healthy pregnancy, Miss Edwards, of Putney Close, was taken to the Royal Oldham hospital at 39 weeks and told she needed to be induced as it was feared her baby was already more than 10lbs.

Miss Edwards said: "I was told that my baby was too big and needed to be induced.

"I don't remember much of what happened afterwards, however I do remember begging the doctor for an emergency Caesarean when I still hadn't given birth during a 60-hour labour.

"But when Alyzia was born she was only 7lbs 5ozs."

Miss Edwards, who lives with her partner John Riley (32), was then moved to the postnatal unit to recover but suspected something was wrong with the medication she was prescribed, which included painkillers and iron tablets.

"I was about to take the tablet when I asked what it was and they said paracetamol, which I am allergic to, so I stopped," she said.

"It said it in my notes and I was wearing a band around my wrist saying I was allergic to it so I can't understand why they would give it to me.

"I thought it could have been a mistake but when the girl in the bed next to me was receiving iron tablets and ibuprofen, yet I was only given paracetamol, I thought it was very strange. It was like they'd swapped our notes or medication.

"On the day I was due to leave, they told me my iron levels were very low and that I should have been taking iron tablets the whole time, but they hadn't been given to me. However the girl next to me, who did receive the tablets, was told she didn't need them.

"It is ridiculous that I was put in that situation and it could have had a severe impact on my health."

Miss Edwards, who is an office worker for a local care company, also alleges that she has suffered problems in the last five weeks with the Royal Oldham Hospital when little Alyzia began to get ill.

Miss Edwards has since spoken to a solicitor and intends to pursue her complaint further.

Cathy Trinick, head of midwifery at The Pennine Acute Hospitals NHS

Trust said: "We are sorry to hear that Miss Edwards is not happy with the treatment she has received around the birth of her daughter Alyzia.

"We take all comments and complaints seriously and although we have not received an official complaint from the family, we will of course however look into the issues she has raised and will offer the opportunity to meet with Miss Edwards if she wishes to discuss her concerns in person."
For a full version of this story see the digital edition or buy the Chronicle.