Red alert as traffic lights lead to chaos
Date published: 09 July 2014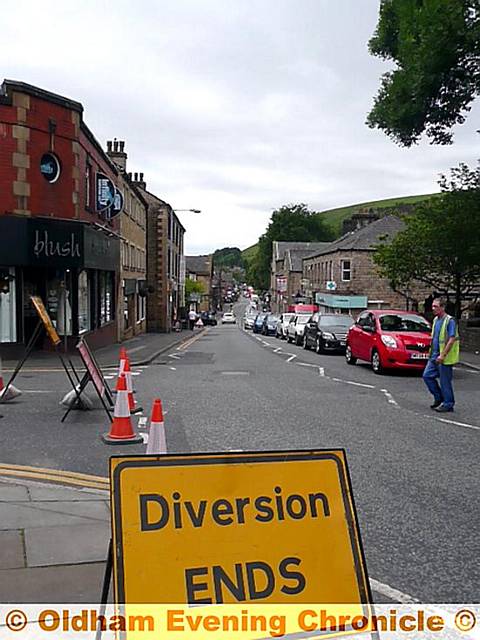 Motorists stuck at the vandalised lights.
Vandals brought more than three days of traffic misery to a Saddleworth village.

Problems started when a three-way traffic control system installed to monitor vehicle flow in Uppermill High Street failed.

Angry drivers were stuck for up to 40 minutes in tailbacks stretching more than a quarter of a mile — backing up to Greenfield station and Brownhills visitor centre.

The problems are linked to a major £1 million sewer replacement scheme being carried out by United Utilities in Church Road, which has led to traffic diversions and disruptions.

Things worsened when it was discovered vandals had tampered with the temporary lights guiding traffic from High Street to Church Road.

One frustrated businessman, who did not want to be named, said: "It's been chaotic. At one point all the traffic lights locked on red so there was absolutely no traffic movement at all until PCSOs were called in."

During Monday rush hour, United Utilities workers helped supervise traffic through Uppermill until the arrival of another lighting system.

Meantime, frustrated drivers say the diversions which take vehicles via Diggle or Greenfield to reach properties above the Church Road scheme are causing growing concern.

A United Utilities spokesman said: "These traffic lights had been interfered with, which is a regular problem. We are working with highways officers and police to monitor the diversion."

A section of Church Road is scheduled to close for six weeks from Monday, July 21.Residents or business with problems can call 0845-746 2200 quoting project reference: NCA 80029009.
For a full version of this story go to the digital edition or buy a Chronicle.