A step too far
Date published: 09 July 2014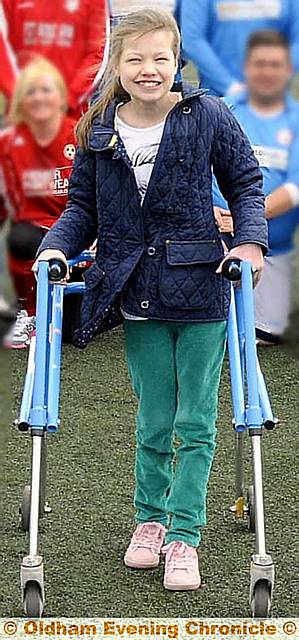 Ellen Godfrey using a frame similar to the one stolen
A DISABLED 13-year-old girl's independence has been snatched away after the walking frame she relies on was swiped from her doorstep.

Ellen Godfrey, who attends Newbridge School in Hollinwood, has cerebral palsy and needs a frame to stand upright and walk. Without it, she is confined to a wheelchair.

The cold-hearted theft happened when Ellen's mum Marie-Ann Godfrey put the frame outside their home on Long Lane, Chadderton, ready for Ellen to go to school. However, the pair were left shocked and disgusted to find that just 45 minutes later it was gone.

Mrs Godfrey said: "It's shocking. Ellen needs the frame every day to get to and from places.

"Whoever took it has taken her independence away. Not having the frame really limits what she can do on her own.

"Thankfully, Ellen's school had a spare frame she can use when she's there but when she leaves for the day she has to get into a wheelchair."

Police, who only released details of the incident yesterday, are now investigating the appalling theft which took place between 7.30 and 8.15am on Wednesday, July 2, and are appealing for anyone with any information to come forward.

Officers are also making inquiries at local scrap yards to see if they have been offered the walking aid following a spate of non-legitimate scrap-metal companies in the area taking items without consent.

Anyone with information should call police on the non-emergency 101 hotline or Crimestoppers, anonymously, on 0800-555 111.
For a full version of this story go to the digital edition or buy a Chronicle.