Pain will never end
Date published: 10 July 2014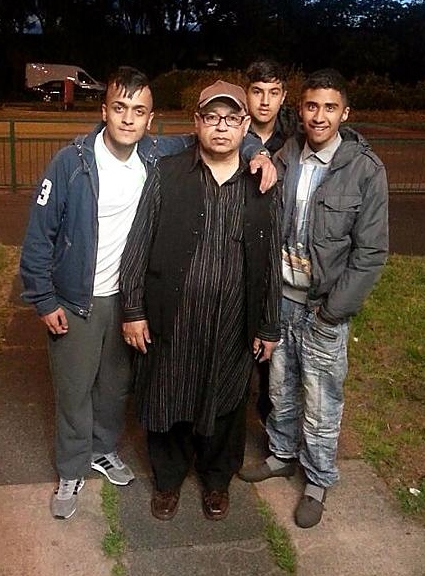 Junaid Khan's father Mumtaz Khan (father) with friends at the vigil.
THE father of popular 21-year-old shopworker Junaid Khan, who was gunned down in a car park in Chadderton, marked the fifth anniversary of his death with a vigil in his memory.

Mumtaz Khan, of Lincoln Street, held the memorial last night at Werneth Islamic centre, Manchester Road, as he welcomed hundreds of guests to mark the anniversary.

Junaid was shot 16 times in a doctors' surgery car park in Block Lane, Chadderton, after midnight on July 9, 2009.

Mr Khan runs a business in Werneth but the rest of his family have left the area for their own safety and still live in fear that his son's killer is on the loose.

He said: "I feel like this matter only happened yesterday. All of the family are suffering from the pain.

"He was such an honest person who always used to stand up for people who needed help. He used to go to their houses nearly every day.

"The pain will never go away. All the family loved him.

"I still go and visit his grave every week because if I don't I feel like I have lost something.

"I'm so happy that everyone came to mark the anniversary last night.

"All we want now is some justice so we can try to move forward."

Detective Inspector Carl Jones said: "While five years has passed since the murder, the case remains open and any new evidence would be fully investigated.

"We urge anyone with information to come forward and speak to police."
For a full version of this story see the digital edition or buy the Chronicle.