Hundreds gather for war centenary
Date published: 14 July 2014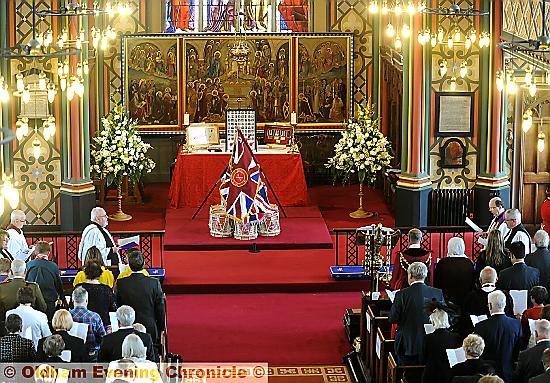 Photo: VINCENT BROWN
HONOURING the fallen . . . the congregation at Oldham Parish Church
HUNDREDS of Oldhamers packed into Oldham Parish Church yesterday to mark the centenary of the start of the First World War.

A civic procession marched from New Radcliffe Street through the town centre to the church were a service was held to honour the war efforts of Oldham residents.

Hymns, poems and readings were heard in a ceremony led by the Rev Derek Palmer.

During proceedings, a torch was passed from old to young, while representatives of schools, scouts and Mahdlo youth zone read the litany and lit candles.

Local dignitaries including the Mayor, Councillor Fida Hussain, leader of the council, Jim McMahon, chief executive Carolyn Wilkins and Oldham MPs Debbie Abrahams and Michael Meacher attended.

Councillor Hussain, who recounted names of Oldhamers killed in the war, said: "It was known as the Great War but it is just a shame that it was not the last war."

After the service, a tree was planted in the church grounds to mark the occasion, with soil laid at its roots by Councillor Hussain and Councillor McMahon. A bench was unveiled to remember those who gave their lives in the war.

The president of the Royal Tank Regiment Association, Capt John Cleverly (90) said: "My father fought in Normandy during the war and my son went to speak for me there as part of their memorial and he brought back a new medal for me to mark the occasion.

"It was a very popular service and the church was very full. It was a very nice service and it's great to commemorate this landmark and meet comrades."

The standard used, from the 2nd Battalion/10th Manchester, was a replica of the original which is housed in the Civic Centre and is too fragile to be moved.

It is housed alongside the original drums of the regiment with the money to buy them raised by the ladies of Oldham from public subscriptions and which are engraved with the names of 617 soldiers killed in the war.