Smash and grab
Date published: 15 July 2014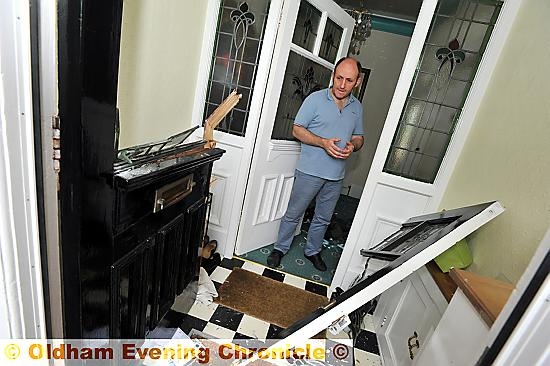 Gary Schofield at his smashed in front door in Garden Suburb.
RAIDERS smashed their way into a house in broad daylight, stole the keys to a new Audi and made off in the vehicle.

The thieves struck at around 10.30am yesterday in Meadow Lane, Garden Suburb, while the owner was just 100 yards away in a Hollins Road pharmacy.

Shocked Gary Schofield (51) said the first he knew about it was when his West Highland terrier Brodie was on the doorstep of another property he's currently living in around the corner on North Gate.

"I'd locked Brodie in the house on Meadow Lane, dropped some shopping off at the other house and had just gone for my prescription," said Gary, whose wife and 11-year-old daughter were thankfully out at the time of the burglary.

"When I saw the dog on the doorstep I knew there must be something wrong so went round and found the car I'd just parked on the drive half an hour earlier gone and the front door of the house obliterated.

"I'm in absolute shock. I've lived here for 15 years and this is the first thing that's happened.

"They found my spare key which was hidden in a place even I couldn't find. Basically, they've gone through every drawer until they've found it and taken my Audi A6 Black Edition which I've only had two months."

A Greater Manchester Police spokeswoman said an officer had attended the scene and an investigation was under way.