Fire crews' fears over new system for call-outs
Date published: 18 July 2014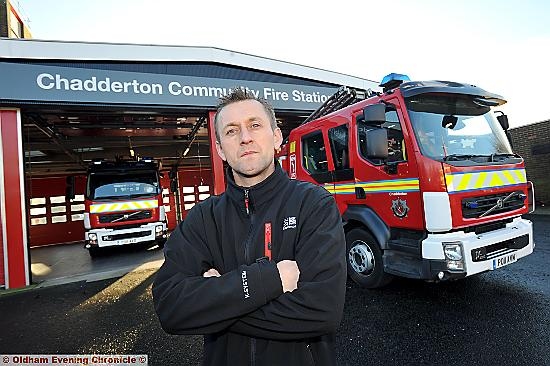 Photo: Darren Robinson
Fire Brigade Union (FBU) representative Dave German at Chadderton Fire Station. The station only has one engine on stand-by (right). The other has been mothballed (left).
A FIRE Brigade Union chief has warned that a new computer system which saves the fire service £900,000 a year is flawed and could end up costing lives.

Dave German, Oldham's Fire Brigade Union spokesman, spoke out after crews from Chadderton Fire Station, where he is based, were not alerted to a serious incident a short distance from the station, on Broadway.

A seriously injured moped rider was airlifted to hospital after a collision with a lorry on Tuesday, June 24. He was trapped underneath the wreckage of his moped until fire and rapid response crews arrived.

The rider suffered a broken pelvis and broken leg.

But because Chadderton's fire engine was refuelling at Tesco in Chadderton, it was unavailable as far as the computer was concerned and crews from Oldham Fire Station were sent instead.

Mr German described the new system as "a mockery", and said computers were making the decisions, taking away personal contact between crews and mobilising staff who could previously have used their initiative to ensure the fastest response to incidents.

He said: "Ok, they are saving £900,000 a year, but what price a life?

"The people on mobilising are stressed because there are fewer of them and decisions are down to a computer, which is always crashing.

"It will get better, but only because the good and efficient people who work in those jobs will make sure it does."

A spokeswoman for Greater Manchester Fire and Rescue Service said: "The move to North West Fire Control has meant some changes in how fire engines and crews are mobilised and we are working with crews to investigate any initial issues or concerns they may have.

"In truth the new system is more sophisticated, using real time information about crewing systems and location of fire engines and crew at any one time to send the fire engine that will get there quickest. This isn't always the one from the nearest station."
To read the full version of this story see the Chronicle's E-chron digital edition or buy the newspaper.