Hasan't he done well
Date published: 21 July 2014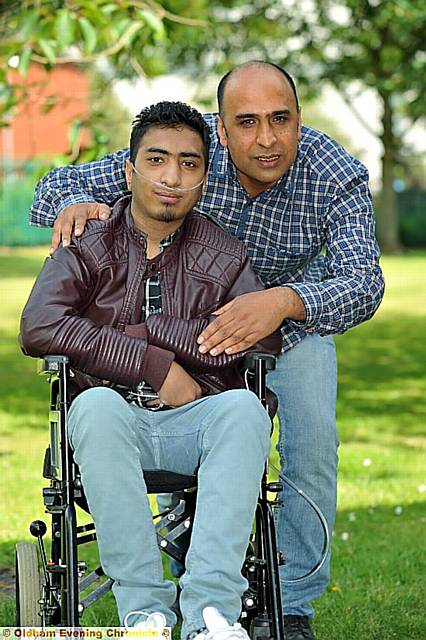 Hasan Umar with dad Tanweer Umar.
PROM night is a memorable occasion for all teenagers but for one determined 16-year-old it was particularly special as he was able to walk into the party after relying on a wheelchair for three years.

Hasan Umar surprised his Hathershaw College classmates and staff when he strode proudly through the doors, despite a long history of illness which had left him physically weak — and baffled doctors.

Hasan, from Coppice, was diagnosed with swine flu in Year 8 and went from an active young boy to a weakened teenager almost overnight.

His infection was made worse by his other medical conditions which include bone marrow suppression — a drop in blood cells which carry blood and fight infections.

Hasan also suffers from a shunt in his lung, meaning his air and blood flow is not perfect and he struggles to pump enough oxygenated blood around his body, with doctors believing he is possibly the only person in the country to suffer from all three illnesses at once.

This has all left Hasan, a former St Thomas Primary School pupil, reliant on an oxygen tank 24-hours-a-day since his 13th birthday and also means he has a permanent cough.

As his condition deteriorated in his early teens, Hasan was forced to miss much of Year 9 and eventually became reliant on a wheelchair after fracturing his heel.

However, as the students made their grand entrance to the prom and were applauded by members of staff, everyone was shocked to see Hasan, in a stylish sky blue suit, rise out of his chair and walk in with them.

Hasan said: "It felt great to stand up and walk into the prom.

"A lot of my friends and teachers haven't seen me walk in three years so they were all really surprised.

"They all said that they really look up to me now.

"I promised one of my teachers that I would dance with her and I did for five minutes."
To read the full version of this story see the Chronicle's E-chron digital edition or buy the newspaper.