Green light for unique eco home
Date published: 24 July 2014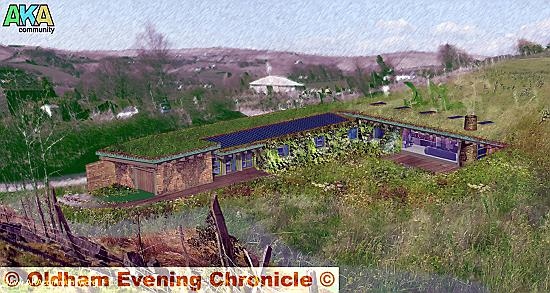 The Forever home
A SELF-sustaining eco home will be built into a Diggle hillside after innovative plans were approved by Oldham Planning Committee.

The four-bedroom home is to be constructed of mainly natural and locally-sourced materials, such as timber, straw and earth, at Holly Grove Farm in Ward Lane.

The construction will be on green belt land, but Government policy allows this as long as the building is of exceptional quality and will enhance the area.

Speaking on behalf of applicants Paul and Katie Millea, Caroline Tamworth told the committee: "The site is close enough to the amenities of Diggle so that the family don't have to rely on their car all the time.

"It will be served by mainly natural light thanks to roof panels and glass walls.

"Katie has lived in Diggle all her life and will make this her new family home with her husband and two children.

"It is a unique development that will offer a low-energy lifestyle.

"The design is of exceptional quality and more than meets Government criteria for building on green belt. It will enhance the area."

Committee members unanimously approved the application.

59 homes will be built on mill site.

To read the full version of this story see the Chronicle's E-chron digital edition or buy the newspaper.