Decade of progress takes pride of place
Date published: 28 July 2014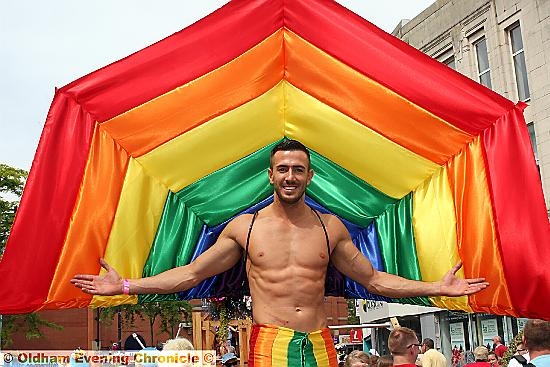 Colourful Pride celebrations
RAINBOW flags and colourful performers lined Old1ham's streets as the borough celebrated its 10th Pride event on Saturday.

With a theme of "Our Heritage, Our Pride, Our Future" the event aimed to celebrate achievements in the Lesbian, Gay, Bisexual and Transgender (LGBT) community over the past 10 years, including LGBT fostering and adoption rights, new equal-rights legislation, civil partnerships and same-sex marriage.

A spectacular parade featuring stilt walkers, dance groups and members of the public toured the streets of Oldham town centre before arriving at Gallery Oldham in Greaves Street for the main event.

Fan favourite Fi Fi, the giant pink owl, returned again this year to help lead the parade while Greater Manchester Police's new Police with Pride car, featuring a Rainbow flag, also took part in the parade.

Britain's Got Talent semi-finalists Showbears kicked off the performances on the stage with a rousing performance of "Y.M.C.A", which got the crowds up on their feet and dancing during what was one of Oldham's hottest days of the year.

Hundreds of people enjoyed the festivities which also featured performances from Bosom Buddies, OMT Showman, Bryan Mottram, Charlie B, Abba Fusion, the Gay Gordons and the Prairie Dogs as well as budding local talent Emmy Lou with Rosie Lugosi and Jonathon Mayer hosting the event.

Civic leaders, local charities and the police were also on hand to open the event and gave speeches about the growth of Oldham Pride in the past 10 years.

Councillor Jean Stretton, cabinet member for town centres, culture and tourism, said: "It is great to look back to the first Oldham Pride in 2005 and see how much it has grown since then.

"Oldham Pride is an important part of town's calendar and I am proud to be from a council which has supported it since it began."

Councillors Bernard Judge, who was deputy mayor during the first Oldham Pride in 2005, Jenny Harrison and John McCann also spoke at the event.

To find out more about Oldham Pride and/or LGBT Groups in Oldham email oldhamlgbtconsortium@outlook.com
To read the full version of this story see the Chronicle's E-chron digital edition or buy the newspaper.